On the street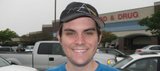 No I didn't mind, and I think that taking your kid out of school just doesn't make any sense.
-->
Teachers across the nation plugged in Tuesday so their students could watch President Obama's televised back-to-school speech.
While Lawrence public schools did not require teachers to show the speech or students to watch it, most did, including second-graders at Prairie Park School.
"He talked very loud so the whole high school could hear him," said student Melanie Meyer.
Obama, speaking from Wakefield High School in Arlington, Va., said that schoolwork takes practice and people aren't born being good at everything.
After the speech, students discussed things they were good at and things they needed to work on.
"I'm good at handwriting," said Colin Greenfield. "I need to work on my journal sometimes in the morning."
Taylor Milhouse said she's good at swimming and soccer, but needs to practice math. "And sometimes science," she added.
The students watching Obama's speech got the main idea: stay in school.
"If you don't stay in school long enough you might not get a very good job and you won't get paid very much," said Milhouse.
Greenfield echoed the president's sentiments.
"He was saying that you need to stay in school so you can learn," Greenfield said. "You can learn a lot so you can be smart."
Accommodations were made for the students whose parents didn't want their children to view the speech.
You can also read the text of Barack Obama's speech, as it was prepared for delivery and distributed to the media.
Copyright 2018 The Lawrence Journal-World. All rights reserved. This material may not be published, broadcast, rewritten or redistributed. We strive to uphold our values for every story published.