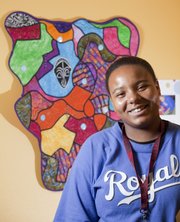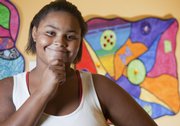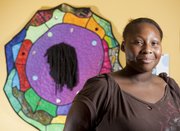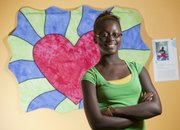 See the quilts
"Visual Voices: Community Youth Project, Quilt Exhibition" runs through Sunday at the Spencer Museum of Art at Kansas University. Hours are 10 a.m.-4 p.m. Tuesday, Wednesday, Friday and Saturday; 10 a.m.-8 p.m. Thursday; and noon-4 p.m. Sunday. Admission is free.
It might seem like a project that's about fabric and seams.
But Marla Jackson says it's about much more than that.
"We talk about life experiences," Jackson says.
This is your last week to see "Visual Voices: Community Youth Project, Quilt Exhibition" at the Spencer Museum of Art at Kansas University. It runs through Sunday.
The exhibition is the culmination of a year-long project that initially brought together 12 girls to learn how to quilt (eight finished the project). Jackson, a nationally known quilter herself, secured grants from the Lawrence Cultural Arts Commission and the Women of Color Quilters Network, among other organizations, to provide the classes.
The girls met for three hours every other Sunday for a year. They learned basic quilting techniques, starting with a small potholder as a project. Most of the girls didn't even know how to thread a needle or use a sewing machine.
They eventually worked on their major project, quilted art pieces that have been hanging at the Spencer since July.
"In my class, there is no right or wrong," Jackson says. "You go where the spirit takes you."
For A'shaune Edwards, a 14-year-old freshman at Central Junior High School, that spirit led to "The Flower Africa Starter," which has bright colors and a flower.
"I'm allergic to most flowers," she says, "but I'm interested in spiritual beliefs about Africans. I'm into it."
She sees a future in quilting: "When I grow up, I want to make quilts for friends and family. I can make good money selling them, too."
Terraine Robinson, a 13-year-old eighth-grader at CJHS, chose a large heart for the dominant image on her quilt.
Her message: "Someone who believes in themselves can do whatever they feel like they can do."
But she acknowledges there were other lessons.
"It's hard," she says. "It makes you frustrated."
Taylor Edwards, 14 and a freshman at CJHS, says she thought quilting was difficult at first. But she learned more, and it became less difficult.
"Before you do something you think is hard," she says, "try it, because it might be easier than you think."
Jackson is starting up another quilting project this fall. To inquire about openings, visit e-mail her at marlaquilts@sbcglobal.net.
"I think it taught them determination," Jackson says. "The process was very difficult for them. It's the process that's important, not the end result."
Copyright 2018 The Lawrence Journal-World. All rights reserved. This material may not be published, broadcast, rewritten or redistributed. We strive to uphold our values for every story published.