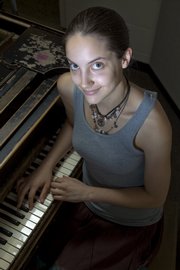 Breanna Ellison grew up near Hays, a town that has a reputation for high drinking levels among youths and students at Fort Hays State University.
"At Fort Hays, the motto is, 'In heaven there is no beer. That's why we drink it here,'" Ellison says.
That's why Ellison, a freshman at Kansas University who grew up in Ellis, was glad to write a song talking about the perils of alcohol abuse.
The song, "Epiphany Discarded," recently took first place in the Sobriety Rocks competition organized by the Kansas Department of Transportation. She was one of two KU freshmen to win awards — Justine Gruen, who attended Blue Valley North High School last year, took first in the video category. Both students received $1,000 scholarships for their entries.
The competition aims to curb underage drinking in Kansas. According to KDOT:
• There were 426 alcohol-related youth automobile crashes in Kansas in 2007 that killed 19 people and injured 251 others.
• Youths who drink before the age of 15 are four times more likely to become dependent on alcohol as adults.
• 96 percent of adult alcoholics begin drinking before they're 21.
• 65 percent of youths who drink get alcohol from family and friends.
It's an issue that's especially resonant at KU this year, with university officials stepping up their education on and enforcement of underaged drinking. Two students died in incidents last year that involved drinking.
Ellison and Gruen say they aren't drinkers and don't plan to start in college, despite peer pressure.
"I've never been a partier in the first place," Ellison says. "I've never been associated with those people. As long as I keep doing what I've been doing, I'll be fine."
Ellison is majoring in piano and French horn performance. She says it only took half an hour to write her award-winning song.
Gruen, meanwhile, won for a video that has herself and others at her high school talking about the perils of drinking and the importance of having other hobbies and activities in their lives.
"I know a lot of people in high school — and some of them I used to be close with — who started to use alcohol to get away from their problems," Gruen says. "They'd wake up the next morning hungover, but their problems were still there. It's frustrating to me."
Gruen is undecided on her major but is considering either anthropology or broadcasting. She's hoping her video can inspire even a handful of people to stay away from alcohol.
"They may think they're having fun for a few hours, but it just makes their problems worse," she says. "It's just stupid, to be blunt."
Copyright 2018 The Lawrence Journal-World. All rights reserved. This material may not be published, broadcast, rewritten or redistributed. We strive to uphold our values for every story published.