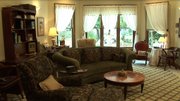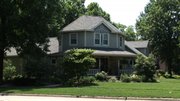 The neo-Victorian on Barker Street could pass for a century-old residence. But looks can be deceiving, and the homeowners like it that way.
Pat and Michael Lechtenberg had a few priorities when they designed their 1997 home, featured on this week's "Home and Away."
"We wanted to stay on the east side of Lawrence and keep a Barker Street address," says Pat Lechtenberg, a Master Gardener, of the couple who raised their family just four blocks away in a home they shared for 27 years.
The home, with its expansive and welcoming front porch, is situated on a lot and a half, ample space to indulge Lechtenberg's green thumb. Striking purple spiderwort adorn the front walkway, a black gum tree is home to a family of red birds, and soldier-straight sky pencil hollies flank the front porch entry.
The front rooms consist of a parlor and dining room, an expansive space that can be combined to accommodate large family gatherings. Custom-built china cabinets, a buffet and twin niches adorn this room, and traditional furniture is offset by modern artwork.
Eclectic lighting features throughout the home are reflective of the third-generation family-owned business, ES Lighting, located nearby.
Patriarch Michael Lechtenberg provided much of the home's labor-intensive handiwork. With an eye toward accommodating their "golden years," the couple incorporated a one-level living arrangement, multiple double doors and easy-to-maintain concrete siding into their home's plan.
"Home and Away" premieres at 6:30 p.m. Mondays on Sunflower Broadband Channel 6 and replays throughout the week.
Copyright 2018 The Lawrence Journal-World. All rights reserved. This material may not be published, broadcast, rewritten or redistributed. We strive to uphold our values for every story published.