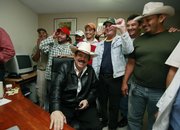 Tegucigalpa, Honduras — A U.S.-brokered agreement that could return ousted President Manuel Zelaya to power was sent to the Honduran Congress on Friday for consideration.
Zelaya said he hoped to be back in office in about a week, but the legislature has not set a date for voting on the plan.
"Now it's in Congress' hands," said Armando Aguilar, a negotiator for Interim President Roberto Micheletti.
The U.S.-brokered pact is aimed at ending Honduras' isolation, four months after soldiers flew the leftist leader into exile in his pajamas.
The agreement is a U.S. foreign policy victory but casts doubt on Latin America's ability to work out its own problems without Washington's help. In the four months since the coup, talks repeatedly broke down as the government of President Barack Obama tried to let Latin American governments take the lead.
In the end, the top U.S. envoy for the Americas flew in Wednesday and won a deal the following night — just a month before presidential elections the U.S. and other countries warned would not be recognized if held under the government that took power in the June 28 coup.
The power-sharing agreement calls for Congress to decide whether to reinstate Zelaya and allow him to serve the remaining three months of his term.
And while it imposed no deadline, Zelaya told The Associated Press on Friday he expects a decision in "more or less a week." Meanwhile, he said, he will remain at the Brazilian Embassy in Tegucigalpa, where he took refuge after slipping back into the country on Sept. 21.
"I'm not going anywhere," he said.
Assistant U.S. Secretary of State Thomas Shannon said the two sides finally made concessions after realizing the warning that the November election would not be recognized was serious.
"There was no more space for them to dither," Shannon said at a news conference in the Honduran capital, Tegucigalpa.
He cautioned "there are a variety of moving parts to this agreement" and said he would stay in Honduras while the two sides negotiate the details.
While the legislature backed Zelaya's ouster, congressional leaders have since said they won't stand in the way of an agreement that ends Honduras' diplomatic isolation and legitimizes the presidential elections planned for Nov. 29.
Inside the Brazilian Embassy, backers hugged Zelaya after hearing news of the deal and one asked him to autograph a white cowboy hat resembling the one the deposed leader always wears. The hat already bore Shannon's signature.
Copyright 2018 The Associated Press. All rights reserved. This material may not be published, broadcast, rewritten or redistributed. We strive to uphold our values for every story published.