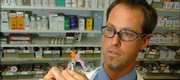 An outbreak of H1N1 Swine Flu was reported in Mexico in April 2009. By the end of May, it had spread across the U.S., with all 50 states reporting cases.
Atlanta — Swine flu has caused at least 19 more children's deaths — the largest one-week increase since the pandemic started in April, health officials said Friday.
At least 114 children have died from swine flu complications since the spring, up from 95 reported a week earlier, according to the Centers for Disease Control and Prevention.
Meanwhile, the government has decided to release the last of its stockpile of liquid Tamiflu for children because of reported shortages of the swine flu treatment. Enough to treat some 234,000 children is being released.
"We didn't see a reason to keep it in reserve when we have so much illness in children now," CDC Director Dr. Thomas Frieden said at a news conference.
The government sent some of the stockpile to states in the spring and more earlier this month. To replenish the supply, the government has ordered more from Tamiflu's manufacturer, Switzerland-based Roche Holdings, he added. But that medicine is not expected to come in until early next year.
Pharmacies are able to convert adult Tamiflu capsules — which are in good supply — to pediatric doses, he added.
The 19 new deaths in children under 18 represent lab-confirmed cases reported in the week ending Oct. 23. The CDC also received three other reports of children dying from flu. Those are also believed to be swine flu fatalities but those cases didn't undergo full lab-testing to confirm that.
Copyright 2017 The Associated Press. All rights reserved. This material may not be published, broadcast, rewritten or redistributed. We strive to uphold our values for every story published.