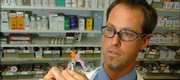 An outbreak of H1N1 Swine Flu was reported in Mexico in April 2009. By the end of May, it had spread across the U.S., with all 50 states reporting cases.
The Lawrence-Douglas County Health Department and area school districts will be offering a number of H1N1 immunization clinics during the next two weeks.
The clinics will be for the following Douglas County residents who are at risk of developing complications if they get swine flu:
• People between the ages of 6 months and 18 years.
• Daily care providers and household members of children younger than 6 months.
• Pregnant women.
• Health care and emergency services personnel who have direct patient contact.
Lisa Horn, health department spokeswoman, said the health department should have ample supply of vaccine because they are receiving more doses.
"It does look like we are going to be OK," she said. "Of course, that's always scheduled to change."
The vaccines are free of charge. Both the nasal mist and injectable vaccines will be available at the clinics.
The Lawrence clinics will take place during parent-teacher conferences.
"It going to be a great way for us to get into the school and make it convenient for the parents to do a one-stop shop type of thing where they will be able to see their child's teacher and then get their child vaccinated at the same time," Horn said.
Douglas County residents may attend any clinic, but the vaccine has been distributed based on population, so the department encourages people to attend the clinics where their children attend school or that are closer to work or residence.
People attending the clinic can visit www.ldchealth.org or the school districts' Web sites to download a consent form that may be filled out ahead of time and brought to the clinic.
Here's a schedule of the clinics:
Eudora
• Tuesday, Nov. 3 — 4 p.m.-6 p.m., Eudora Elementary School, 801 E. 10th St.
• Wednesday, Nov. 4 — 4 p.m.-7 p.m., Eudora High School, 2203 Church St.
• Friday, Nov. 6 — 4 p.m.-7 p.m., Eudora Middle School, 2635 Church St.
Baldwin
• Saturday, Nov. 7 — 10 a.m.-2 p.m., Baldwin High School, 415 Eisenhower St.
Lawrence
Wednesday, Nov. 11
• 4 p.m.-7 p.m., Deerfield, 101 Lawrence Ave.
• 4 p.m.-7:30 p.m., Hillcrest, 1045 Hilltop Drive.
• 4 p.m.-7:30 p.m., New York, 936 N.Y.
• 4 p.m.-7 p.m., Prairie Park, 2711 Kensington Road.
• 4 p.m.-8 p.m., Quail Run, 1130 Inverness Drive.
• 3:30 p.m.-7:30 p.m., Schwegler, 2201 Ousdahl Road.
• 4 p.m.-8 p.m., Sunset Hill, 901 Schwarz Road.
Thursday, Nov. 12
• 4 p.m.-7 p.m., Broken Arrow, 2704 La.
• 4 p.m.-7:30 p.m., Cordley, 1837 Vt.
• 3:30 p.m.-7:30 p.m., Langston Hughes, 1101 George Williams Way.
• 4 p.m.-7 p.m., Pinckney, 810 W. Sixth St.
• 3:30 p.m.-7 p.m., Sunflower, 2521 Inverness Drive.
• 4 p.m.-6:30 p.m., Wakarusa Valley, 1101 E. 1000 Road.
• 4 p.m.-7 p.m., Woodlawn, 508 Elm St.
Copyright 2018 The Lawrence Journal-World. All rights reserved. This material may not be published, broadcast, rewritten or redistributed. We strive to uphold our values for every story published.