KU runs out of seasonal flu vaccine
Kansas University has canceled its last seasonal immunization clinic for today because supplies have been depleted. Additional clinics will be scheduled after more doses arrive.
For university employees and retirees who are enrolled in a state health plan, the Kansas Health Policy Authority is offering 550 free seasonal flu shots at a clinic from 10 a.m. to 2 p.m. today in the Courtside Room in the Burge Union.
Employees must present health plan cards and/or CVS Caremark cards at the clinic. Retirees in plans A and B as well as Medicare supplement plans are eligible. The vaccine is being offered on a first-come-first-served basis.
KU Hospital will offer free seasonal flu shots during its annual Drive-Thru Flu Shot event from 8 a.m. to 1 p.m. Saturday at the intersection of Adams Street and Rainbow Boulevard in Kansas City, Kan.
No appointment is necessary. People who are 18 and older are eligible for the vaccination.
Although the flu shots are free, the hospital will accept donations, paper products and nonperishable food items for Harvesters, the community food network, at the event.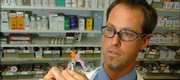 An outbreak of H1N1 Swine Flu was reported in Mexico in April 2009. By the end of May, it had spread across the U.S., with all 50 states reporting cases.
A shortage of swine flu vaccine has forced Kansas University and the Lawrence-Douglas County Health Department to cancel five swine flu immunization clinics, leaving just two on the calendar.
The health department is having one today. Oct. 28
It will be from 2 p.m. to 6 p.m. in Building 21 at the Douglas County 4-H Fairgrounds, 2120 Harper St.
About 2,000 doses will be available only to people 6 months through 18 years of age; daily care providers of and household members who live with children younger than 6 months of age; all pregnant women; and health care and emergency services personnel with direct patient contact.
Last Wednesday, the department provided 1,502 doses at its first community clinic.
KU plans to offer 500 doses of the H1N1 vaccine at a clinic from noon and 2 p.m. Nov. 6 at Ambler Student Recreation Fitness Center.
To be eligible, students must show their KU ID cards and be 24 years of age or younger, or 25 years of age and older with certain medical conditions, such as asthma and diabetes, that put them at higher risk for influenza-related complications.
KU recommends pregnant students see their obstetricians for the flu vaccine.
Before attending either clinic, people can download and complete a vaccine consent form ahead of time. If attending the health department's clinic the form needs to be downloaded at ldchealth.org (PDF). If attending the clinic at KU, download the form at www.studenthealth.ku.edu (PDF). The forms are specific to the clinics.
The vaccines are provided free through the government. Private health providers may charge an administration fee.
Dan Partridge, director of the health department which oversees distribution of the vaccine in Douglas County, said the department has only received 1,400 doses of the H1N1 vaccine since last Wednesday, when it had 4,300 doses.
"Our window of knowledge on vaccine supply is week to week," Partridge said. "Each week we are told how much we can order and so I can't say with any certainty what the vaccine supply will be like in three to four weeks."
Earlier this month, he expected to have 16,000 doses by now.
Partridge said he wasn't sure why there was a supply shortage.
"We have not heard through official channels what has caused the shortage," he said. "I wish I knew."
So far, the department has distributed about 500 doses to Lawrence Memorial Hospital, 150 to Lawrence-Douglas County Fire & Medical, 500 doses to KU, and 700 to private health providers.
He said the department plans to have smaller immunization clinics for children and health care workers in the near future instead of the larger community clinics until supply improves.
Partridge said Tuesday that the county had 11 confirmed cases of swine flu before the government stopped tracking cases in August, but added that reports of influenza-like illness have been widespread in the county and across the state. Lawrence Memorial Hospital reported that since Aug. 23, two people have been hospitalized with confirmed cases of swine flu. Eight others have been hospitalized with swine flu symptoms. There have been nine deaths in Kansas of people infected with swine flu, but none has been reported in Douglas County.
Copyright 2018 The Lawrence Journal-World. All rights reserved. This material may not be published, broadcast, rewritten or redistributed. We strive to uphold our values for every story published.