Topeka — Several Republican state lawmakers toured around Kansas on Tuesday pushing for a proposed state constitutional amendment that would prohibit requiring Kansans to buy health insurance under a government plan.
The proposal was touted by the legislators as a pre-emptive strike against health reform authored by Democrats in Congress.
"The federal government does not have the ability to manage health care," said state Rep. Brenda Landwehr, R-Wichita, and chair of the House Health and Human Services Committee.
Similar efforts have been mobilized in other states by the American Legislative Exchange Council. The Kansas legislators were shuttled to news conferences in Wichita, Emporia, Topeka and Overland Park via bus paid for by Americans for Prosperity, which opposes government expansion of health care.
State Sen. Mary Pilcher-Cook, R-Shawnee, and state Rep. Peggy Mast, R-Emporia, also spoke at the Topeka event, which was held in the Senate chamber and attended by members of the 9-12 Project and Americans for Prosperity.
Afterwards, the Kansas Democratic Party issued a news release calling the Republican legislators' efforts partisan and hypocritical.
"Before Kansans even have a chance to review the federal health insurance legislation, Peggy Mast, Brenda Landwehr, and Mary Pilcher-Cook are already moving to force Kansans to opt out of any possible reform," said Kenny Johnston, executive director of the state Democratic Party.
The proposed amendment will be introduced during the legislative session that starts in January. It would have to be approved by two thirds of the House and Senate before it could go to the voters for consideration in November 2010.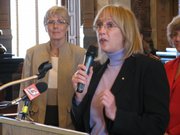 Copyright 2018 The Lawrence Journal-World. All rights reserved. This material may not be published, broadcast, rewritten or redistributed. We strive to uphold our values for every story published.