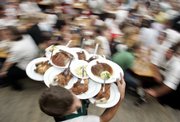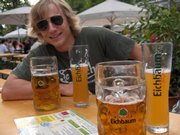 His freshman year at the University of Stuttgart, Bernhard Minke may have had too much fun celebrating Oktoberfest.
Minke, a Kansas University graduate student, attended his first Oktoberfest celebration at Stuttgart's Cannstatter Volksfest, Germany's second-largest Oktoberfest celebration.
"It was a disaster," he says. "I ended up missing the last train, and I had to walk home. At some point I was walking on the highway and cops picked me up and gave me a ride. Families bring their kids during the day, and at night young people go crazy drinking."
After almost 200 years of this tradition in Germany, Oktoberfest has established itself as a cult holiday in America celebrating life, good food and plentiful amounts of beer.
Looking for an excuse to party? There are still a handful of days in October to stage your own Oktoberfest.
Originally a royal wedding celebration in Germany, Oktoberfest evolved into a worldwide beer and food fest that traveled to the U.S. via German immigrants and returning soldiers from World War II.
"The key to Oktoberfest is beer," says Bill Keel, professor of Germanic languages and literatures at KU. "I think a lot of people have this misconception that it's a harvest celebration like Thanksgiving. It's really just a time to get together and celebrate life."


Traditionally held in the last two weeks of September and the first week of October, people can easily celebrate an Americanized version this fun tradition with an Oktoberfest cookout of their own.
Beer, arguably the most important element of this tradition, should be cold, frothy and German. When shopping, look for labels like Spaten, Paulaner, Hacker-Pschorr, Hofbräuhaus and Löwenbräu. Most of these breweries have seasonal Oktoberfest beers, which are usually darker and stronger than other brews.
This year, 6 million people were expected visit Germany's largest Oktoberfest celebration in Munich.
"Oktoberfest centers around Munich," Keel says. "It's a huge fair focused on great big beer tents."
At these celebrations, food is served at stands and is eaten at long communal tables in tents.
"They like to eat spare ribs, roasted chickens, fish cooked over an open fire, and of course, bratwurst, sauerkraut and big pretzels," Keel says.

In Lawrence, St. John the Evangelist Catholic Church celebrated Oktoberfest with an annual fundraiser that featured a polka mass, German food, music and children's games.
The night's fare included imported German beer, wienerschnitzel, hot dogs, bierocks, potato salad, sauerkraut and homemade desserts.
Along with a hefty beer selection, make an easy menu for your at-home Oktoberfest-theme party — roasted chicken, German potato salad, sauerkraut and German chocolate cake.
Buy a Bavarian Oktoberfest album to set the mood of the party. Once you've accounted for the drinks, food and music, greet your guests with a mug of beer and the festive German greeting, "Willkommen!"
Be aware not to confuse this Americanized version of Oktoberfest with the real thing.
"You can't have an Oktoberfest without at least 5,000 people and a band," Minke says. "Trying to have an Oktoberfest in America is kind of like trying to set up a Fourth of July party in Germany. But as long as people are having fun, it's all good."
Copyright 2018 The Lawrence Journal-World. All rights reserved. This material may not be published, broadcast, rewritten or redistributed. We strive to uphold our values for every story published.