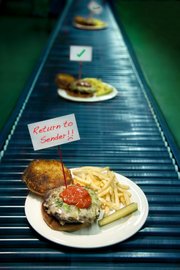 The chimichanga looked worse for the wear. The presentation was sad — just some chicken wrapped in a tortilla and drowned in an unidentifiable reddish-brown "sauce."
Clay Westerlund hoped it tasted better than it appeared.
It didn't.
"After I ate about half of the chimi, I told the waiter it wasn't that good, after which the manager came over and chatted with me about it," the Lawrence resident says. "I was very impressed with how the manager handled the situation, which he acknowledged that their chimis weren't that great, and then suggested another dish I might like."
There's that old adage "the customer is always right," and Westerlund believes that's especially applicable in the restaurant world. When it comes to dining out, something the Westerlund says he does daily, he doesn't quietly shove food around his plate if it's not to his liking — he speaks up. He figures, if he's paying for it, he should get what he wants.
"I am more apt to send something back though if isn't cooked the way I asked, or the ingredients are wrong," he says. "Though I have sent things back if it just wasn't what I had expected, or simply unappealing."
The idea of voicing displeasure at a restaurant might make one's stomach turn, but Rick Martin, executive chef at Free State Brewery, 636 Mass., believes it's an important part of eating out.
"It's always appropriate to send something back if it's not acceptable," Martin says. "Any good chef will genuinely appreciate a customer letting him or her know there is a problem."
Martin says among the top reasons customers send food back include the item being over- or undercooked, or if the dish contains an ingredient the diner doesn't like or can't eat. When it happens to him, he addresses the returned meal in two parts.
"First is, 'How quickly can I make this customer happy?' Second, I begin to find the root of the problem if one exists," Martin says.
Westerlund agrees the customer should be happy and says he usually is when he inquires about a new meal. In fact, he says, often the only people upset by the transaction are the other folks at his table.
"I usually don't get any reaction from the servers, I think mostly because I don't send things back unless something is truly wrong, so they understand," Westerlund says. "On the other hand, if I am with people and they know I am wanting to send something back, they have a tendency to try and dissuade me. I think this is partly due to the desire to avoid confrontation in most people, even when they would be in the right."
Martin has no problem sending food back if necessary or passing along his comments about the meal to the chef, all in hopes of improvement. Restaurants are part of the service industry, after all.
"When I eat food that isn't what it claims to be or is obviously prepared incorrectly, I may choose to send it back discreetly," Martin says. "I'm usually OK with finishing my meal and politely letting the chef know my thoughts afterwards."
Copyright 2018 The Lawrence Journal-World. All rights reserved. This material may not be published, broadcast, rewritten or redistributed. We strive to uphold our values for every story published.