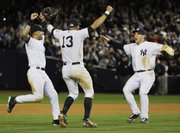 New York — Alex Rodriguez, welcome to the World Series. The New York Yankees are back in baseball's big event.
The sport's top spenders finally cashed in with their first pennant in six years Sunday night, beating the Los Angeles Angels, 5-2, in Game 6 of the AL championship series behind the savvy pitching of that old October pro, Andy Pettitte.
Next up, New York hosts defending champion Philadelphia in the World Series opener Wednesday night. Cliff Lee is expected to face ALCS MVP CC Sabathia in an enticing pitching matchup between former Cleveland teammates — and the past two AL Cy Young Award winners.
"I couldn't be more excited," Rodriguez said. "I feel like a 10-year-old kid."
Ridiculed in the past for his October flops, Rodriguez played a huge role in helping his team advance through the playoffs, batting .438 with five home runs and 12 RBIs. The slugger earned his first trip to the World Series during a 16-year career in which he has accomplished almost everything else.
Pettitte set a postseason record for wins, Johnny Damon hit a two-run single, and Mariano Rivera closed it out in familiar fashion with a six-out save as the Yankees won their 40th American League crown by vanquishing the Angels, a longtime nemesis.
Now, the Yankees go for their record 27th title — when manager Joe Girardi was hired two years ago, he took jersey No. 27 with that in mind.
"We're just trying to enjoy this, man," Derek Jeter said. "Hopefully, we can play one more great series."
Not a bad way for Jeter and crew to finish up the first season at the team's new $1.5 billion ballpark
For manager Mike Scioscia and his sloppy Angels, it was their latest playoff failure during a decade of consistent regular-season success. Since winning their only championship in 2002, the Angels are yet to return to the World Series despite five AL West titles in the past six years.
"At times we played good baseball. At times we shot ourselves in the foot," Scioscia said.
After rain postponed Game 6 for a day, the clear weather and mild, 58-degree temperature at first pitch were a stark change from the first two games of the series, when the Angels froze up in the raw chill in New York.
Pettitte escaped a jam in the sixth and left to a standing ovation with one on and one out in the seventh, tipping his cap to the sellout crowd of 50,173, the largest at the new Yankee Stadium.
Copyright 2018 The Associated Press. All rights reserved. This material may not be published, broadcast, rewritten or redistributed. We strive to uphold our values for every story published.