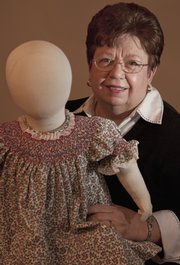 "Interest in smocking, like cross-stitch, quilting and other needle arts, rises and falls in popularity with the times," says Lawrence smocker Kathy Schmidt. "Like quilting, smocking is once again a popular needle art around the country."
Schmidt's fascination with needlework began in childhood.
"Both grandmothers sewed beautifully, quilted, embroidered, crocheted and tatted," she explains. "I was mesmerized watching them create lovely things for the family and eagerly awaited the day when I could do such things myself."
She started sewing seriously in seventh grade at Central Junior High School and designed and made her own formal dresses. She graduated from Lawrence High School in 1966 and studied home economics at Kansas State University.
But she abandoned formal studies when she married Rick Schmidt, a grain science engineer. She started creating classic clothing for her children and discovered the heirloom infant clothing world when the family moved to Baton Rouge, La., with Rick's job in 1975.
"I felt I was in heaven when I saw all the delicately stitched clothing with beautiful laces and wonderful light and airy cotton batiste," she recalls. "The items were expensive and kept in glass cases to keep them pristine until purchased. I wanted to learn how to create similar clothes, but had no idea where I could learn the art or even purchase the fine materials and laces."
The opportunity came in 1981 when she moved to Pennsylvania and found English smocking classes.
"Smocking isn't hard to learn but, as with any needle art, it takes time," she says. "You follow a graph similar to cross-stitch, and then pleat the fabric with a wonderful invention, the pleating machine. There are many variations of the machine now, but back then (1981) they were made in South Africa, and terribly expensive if you didn't plan to use it with any consistency."
Cottage industry
Schmidt purchased a hand-operated one, and within weeks she was making baby shower gifts, taking orders from neighbors and sewing for a small cottage industry in Baltimore.
She set up her own business, the Unique Needle, taught smocking in her home and a local needlework shop, and was contracted to do custom sewing for several children's boutiques across the country.
"I was kept busy, loved every minute of it and was hungry for more instruction," Schmidt says.
She attended the Smocking Arts Guild of America's regional and national conventions, and she completed all three levels of the guild's instruction at the Martha Pullen School of Art Fashion in Huntsville, Ala. When the family returned to Lawrence in 1984, she became active in the local SAGA chapter (which is no longer in existence), taught classes at a local fabric store and now smocks full-time.
Schmidt feels privileged to have created special, unique garments over the years, including the re-creation of Victorian christening gowns when the originals became too fragile to use.
"Most of my creations are a labor of love," she says. "I feel privileged to be part of a child's celebration at an important part of the family's life, and hopefully the clothing I make today will become tomorrow's family heirloom."
Copyright 2018 The Lawrence Journal-World. All rights reserved. This material may not be published, broadcast, rewritten or redistributed. We strive to uphold our values for every story published.