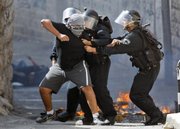 Jerusalem — Israeli police firing stun grenades faced off Sunday against masked Palestinian protesters hurling stones and plastic chairs outside the Holy Land's most volatile shrine, where past violence has escalated into prolonged conflict.
A wall of Israeli riot police behind plexiglass shields marched toward young men covering their faces with T-shirts and scarves, sending many of them running for cover into the Al-Aqsa mosque, one of the Islamic structures in the compound known to Jews as the Temple Mount and to Muslims as the Noble Sanctuary.
They remained holed up in the mosque with police outside for several hours until dispersing before nightfall. Eighteen protesters were arrested, and no serious injuries were reported. But even mild troubles at the disputed compound in Jerusalem's Old City can quickly ignite widespread unrest, and police remained on high alert.
"Jerusalem is a red line that Israel should not cross," said Palestinian Authority spokesman Nabil Abu Rdeneh, condemning the Israeli police action.
A visit to the site in 2000 by Ariel Sharon, then an Israeli opposition leader and later prime minister, helped ignite deadly clashes that escalated into violence that engulfed Israel and the Palestinian territories for several years.
Sunday's disturbances were rooted in calls from Muslim leaders for their followers to protect the Islamic sites from what they said were Israeli plots to damage them or let Jews pray in the compound. There was no evidence to support either claim.
Palestinians are also angry about stalled peace talks and ongoing Israeli construction in east Jerusalem and the West Bank, areas they want for a future state.
Stoking tensions, a group of hardline settlers and rabbis met in Jerusalem on Sunday evening calling on Jews to pray at the site. Most rabbis, however, say the place is so holy that Jews should not even set foot there. Police allow only Muslims to worship in the compound and say that practice will be enforced.
Israel has controlled the site since 1967, but has left day-to-day administration in the hands of a Muslim clerical body, the Waqf. Israelis and tourists are allowed to visit at certain times.
Israel's national police chief, David Cohen, accused a small group of Muslim extremists of trying to foment violence.
"The police will act with a strong hand against anyone who disrupts order on the Temple Mount and against those incite to riot," Cohen said.
The Jerusalem holy site is a hot-button issue for Muslims worldwide, and the Palestinian condemnation was quickly taken up abroad. The head of the 57-nation Organization of the Islamic Conference warned that any provocative act by Israel "would bear grave consequences," while the Arab League called on the U.N. to "stop the Israeli aggressions." Egypt urged Israel to refrain from actions with "negative repercussions" for the region.
The Islamic militant Hamas movement, which rules the Gaza Strip, called on Palestinians to rise up against Israel and urged Arab countries that have ties to Israel to sever them.
Nine police officers were lightly wounded and 18 protesters were detained, police said. The Palestinian president's adviser on Jerusalem affairs and a leader from Israel's Islamic Movement were arrested for alleged incitement, police said.
A total of 25 protesters were injured by batons or gas inhalation, said Ameen Abu Ghazaleh, head of the Palestinian Red Crescent's ambulance service. An Australian journalist covering the clash was struck in the face by a rock and lightly wounded, Israeli police said.
Copyright 2018 The Associated Press. All rights reserved. This material may not be published, broadcast, rewritten or redistributed. We strive to uphold our values for every story published.