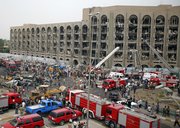 Baghdad — A pair of suicide car bombings Sunday devastated the heart of Iraq's capital, killing at least 147 people in the country's deadliest attack in more than two years. The bombs targeted two government buildings and called into question Iraq's ability to protect its people as U.S. forces withdraw.
The bombings show that insurgents still have the ability to launch horrific attacks even as violence has dropped dramatically in Iraq. Many fear such attacks will only increase as Iraq prepares for crucial January elections.
The dead included 35 employees at the Ministry of Justice and at least 25 staff members of the Baghdad Provincial Council, said police and medical officials speaking on condition of anonymity because they were not authorized to speak to the media. At least 721 people were wounded, including three American contractors.
The street where the blasts occurred had just been reopened to vehicle traffic six months ago. Shortly after, blast walls were repositioned to allow traffic closer to the government buildings. Such changes were touted by Iraq's Prime Minister Nouri al-Maliki as a sign that safety was returning to the city.
The Iraqi leader walked among the mangled and blackened cars, which lay in front of blast walls that had been decorated with peaceful street scenes of Iraq. At the Justice Ministry, windows and walls on both sides of the street were blown away, and blood pooled with water from burst pipes.
Al-Maliki has staked his political reputation and re-election bid on his ability to bring peace to the country and pledged to punish those responsible, who he said wanted to "spread chaos in the country, undermine the political process and prevent the holding of parliamentary elections." But the Sunday attacks seemed designed to paint the Iraqi leader as incapable of providing security to the beleaguered city, undermining much of his political support.
The attacks occurred just hours before Iraq's top leadership was scheduled to meet with heads of political parties in order to reach a compromise on election guidelines needed to hold the January vote.
The fact that the vehicles were able to get into an area home to numerous government institutions — just hundreds of yards from the heavily fortified Green Zone where the U.S. Embassy and the prime minister's office are located — sparked demands that those in charge of the city's security be held accountable.
"Those responsible for security and intelligence should be checked and interrogated," said Sunni Iraqi lawmaker Wathab Shakir. "Why should innocent people be killed?"
The initial investigation suggested the vehicles, each loaded down with more than 1,500 pounds of explosives, might have passed through some security checkpoints before hitting their destination, said Maj. Gen. Qassim al-Mousawi, a spokesman for the city's operations command center.
There have been no claims of responsibility so far, but massive car bombs have been the hallmark of the Sunni insurgents seeking to overthrow the country's Shiite-dominated government. Iraq has accused members of the outlawed Baath Party living in neighboring Syria of being behind another series of deadly bombings in August that also targeted government buildings. Al-Maliki blamed the attacks on Baathist and Al-Qaida.
Black smoke billowed from the frantic scene, as emergency service vehicles sped to the area. Many of the wounded were loaded into the back of trucks and into civilian cars because there were too many for ambulances to carry.
Copyright 2018 The Associated Press. All rights reserved. This material may not be published, broadcast, rewritten or redistributed. We strive to uphold our values for every story published.