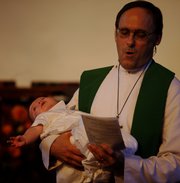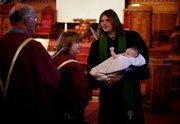 Having a baby can lead to the most agonizing decisions — medical, philosophical and familial. Heck, even coming up with a name can lead to months of psychological warfare.
But just as soon as Jessie and Mike Perkins had their name picked out — Michael, but not Mike Jr. — they also had made another decision very important to them: He would be baptized.
The Perkinses had both grown up going to church, Jessie off and on and Mike consistently, and, since their pregnancy began, they had become increasingly involved in their current house of worship, Plymouth Congregational Church, 925 Vt. It soon became clear that not only should they become members, but that they wanted baby Michael to become a member, too.
So, just a few days apart, the Jessie and Mike Perkins became members of the church and brought baby Michael, now 5 months, into the Plymouth family as well, baptizing him.
"We want to baptize him because we think that religion is an important part of his upbringing, and we want him recognized as a member of the church as soon as possible, as a Christian," Jessie Perkins said before the baptism. "And I guess we just kind of thought the sooner we do that the better."
Depending on your religious point of view, baptism may be high, low or nowhere on your list. But for the parents who want to do it, when, where and how to do it are just more decisions to add to the pile.
Many church leaders stress that in this day and age, baptism can be done any time. There's not really a set schedule, it's more about when everyone is ready, says the Rev. John Schmeidler at St. John the Evangelist Catholic Church, 1234 Ky. He says he does everything from baptizing infants at the hospital, as had been common in the Catholic faith, to baptizing grade-school kids whose parents have returned to the church.
"It has changed. In the olden days, it used to be you were baptized immediately because baptism was our salvation into heaven," he says. "And there still is a portion of that in one sense — we're baptized into Christ ... but now really it's also become an understanding that it's an entrance into the church. So it depends on what theology you're really pushing with baptism as far as how a person is going to hold an importance for it."
Schmeidler also stresses that baptism shouldn't be seen as an insurance policy. Though there may be familial stresses associated with baptism, just getting it done doesn't mean a thing without the religious education to back it up, he says.
"Just because a child's baptized ... they still have to be raised in that faith in some way or it will never become a part of them. It would be like giving them a gift which they don't know what to do with," Schmeidler says. "Baptism isn't just like a salvation thing, which people think it is. It is salvation, but there's also a responsibility for growing in that salvation that Christ brings to us."
The Rev. Peter Luckey, the Plymouth senior pastor who baptized Michael Perkins, says in his congregation, religious education is on the congregation as much as the parents. He says that the 1,000-plus members at Plymouth also take an oath to make sure little Michael and the church's other baptized infants are raised in a faith tradition.
"The community, the congregation also has a role to play. They stand up, the entire congregation, and say that by their example of living in the way of Jesus that they will be there to support the parents in the raising of that child," Luckey says. "Baptism is just simply a way of naming and confirming and making visible what's already happened in an invisible way — that every child is a child of God."
Copyright 2018 The Lawrence Journal-World. All rights reserved. This material may not be published, broadcast, rewritten or redistributed. We strive to uphold our values for every story published.