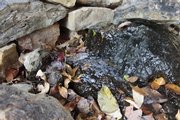 When a friend asked whether I would leave my bubbling birdbath going this winter, I had to admit that I had not even thought about it when I installed the feature last spring. With a pond, the decision would be a no-brainer for me to keep the pump running, but the shallow pool of the birdbath will require a heater to survive a Northeast Kansas winter.
If you are also wondering whether to leave your fountain, waterfall or pond going for the winter, there are a variety of factors to consider.
The most important question to ask is whether the water could freeze and break the water pump or the feature itself. Bubbling rocks, birdbaths and ponds with shallow basins are most likely to be damaged by ice. In Northeast Kansas, experts recommend pulling pumps from containers that are less than 16 inches deep. Store the pump inside (where it will not freeze) in a bucket of water until higher temperatures return.
The other option for shallow pumps is to use a submersible heater that is made specifically for landscape ponds and birdbaths. Since I installed my bubbler to provide water for birds, a heater might be a good option in my garden. On the other hand, I also know this means I will have to make sure to fill the basin with water regularly throughout the winter. I also will need to keep leaves and plant debris cleaned out of the basin throughout the winter.
The second-most-important consideration for water gardeners is the stonework associated with the feature. Freezing and thawing water can crack rocks in waterfalls, stone-lined streams and even some fountains. Pondless waterfalls or bubbling rocks with shallow depressions that hold water may need to be shut down for the winter to keep from damaging the stonework itself.
Water movement in relation to air exposure is another item to think about. Water moving over a large waterfall or rocks can cause rapid temperature fluctuations within the pond or basin. Fish and other aquatic life can be injured by the temperature fluctuations, and pumps and stonework can be at greater risk for freeze damage.
With waterfalls and streams, you might also consider whether water could be diverted out of the system by ice.
If you have a pond that is deep enough to keep going over winter but are concerned about the associated waterfall or stream, you may be able to disconnect the pump to just discontinue use of the waterfall until spring. Pumps left running within ponds should be positioned to pull from the middle of the pond to circulate the water, or you can replace a large pump with a small pump and plastic riser that creates a ripple at the water's surface.
Small air pumps and floating de-icers are another option to keep ponds open for birds and to provide oxygen for overwintering fish.
If you plan to keep plants and/or fish in your pond, or keep the water available for birds and wildlife, here are a few things to do to prepare:
• Remove any tropical plants and floating plants if you have not already. Some tropical plants can be overwintered inside, or you can compost them and purchase new ones next spring. Never discard plants in natural waterways.
• Keep a hole in the ice throughout the winter for oxygen, and stop feeding the fish when water temperatures fall to 50 to 55 degrees Fahrenheit.
• Plants sitting on shelves within the pond should be lowered into deeper water.
• Remove ultraviolet filters, skimmers and related plumbing that could be damaged by freezing and turn off autofills.
Late fall is also a good time to clean the muck from the bottom of your pond if it needs cleaning. I think I am going to scrub the birdbath before I install the heater.
— Jennifer Smith is the Douglas County Extension Agent–Horticulture and can be reached at 843-7058.
Copyright 2018 The Lawrence Journal-World. All rights reserved. This material may not be published, broadcast, rewritten or redistributed. We strive to uphold our values for every story published.