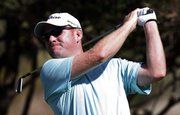 SCOTTSDALE, ARIZ. — Troy Matteson never had shot a 61 until this week. Now he's done it twice in a row to set a PGA Tour record.
His second straight 9-under round at the Frys.com Open on Saturday gave him a three-shot lead at 16-under 194 heading into the final round.
Matteson's 122 score in consecutive rounds broke the tour record of 123 set this year by Steve Stricker in the third and fourth rounds of the Bob Hope Classic.
Webb Simpson (64), Tim Clark (65) and Chris Stroud (65) were tied at 13 under.
In an amazing stretch, Nicholas Thompson had a double eagle on the par-5 11th, followed by a hole-in-one on the par-3 13th, a drop of five shots in three holes. He finished with a 65 to reach 11 under.
GOLF
Garcia trails by one
Castellon, Spain — Michael Jonzon of Sweden shot a 6-under 65 to take a one-stroke lead the Castello Masters after the third round on Saturday. Jonzon was at 16-under 197 at Club de Campo del Mediterraneo. Martin Kaymer of Germany and Sergio Garcia of Spain were tied for second. Kaymer had a 68 and Garcia shot a 67 after finishing his second round in the morning because play on Friday had been halted by failing light.
Sam Hutsby of England was another shot back after a 66 in his third European Tour event as a professional.
Bean tied atop AT&T;
San Antonio — Andy Bean shot a 5-under 67 for a share of the second-round lead with Russ Cochran in the Champions Tour's AT&T; Championship. Cochran had a 68 to match Bean at 8-under 134 on the Oak Hills Country Club course.
Jay Haas (67) was a stroke back, and Jeff Sluman (67) and Tom Kite (69) were 6 under. Two-time defending champion John Cook, coming off a victory last week at The Woodlands, was 3 under after a 71.
Every leads Nationwide
Charleston, S.C. — Matt Every made a 15-foot birdie putt on the final hole for a 5-under 67 and a one-stroke lead over money leader Michael Sim after the third round of the season-ending Nationwide Tour Championship. Every, 49th on the money list, is trying to move into the final top 25 — the cutoff for 2010 PGA Tour cards.
NBA
Arthur out four months
Memphis, Tenn. — Memphis Grizzlies forward Darrell Arthur underwent surgery to repair a partially torn right pectoralis muscle and is expected to miss up to four months.
The team announced the surgery on Friday for the injury suffered in September. He aggravated the injury during an Oct. 12 preseason game against the Orlando Magic.
The 21-year-old former Kansas University forward averaged 8.0 points and 2.3 rebounds on 52.6 percent shooting in three games this preseason.
Arthur was drafted in 2008 by the Grizzlies from Kansas and ranked in the top 10 among rookies last season in rebounds, blocks and steals.
Beasley in photo flap
Miami — Michael Beasley has been thrown into another photo flap. Seven pictures of the Miami Heat forward asleep on a boat have been posted on celebrity Web site TMZ.com, including one with several beer bottles and cans on a nearby table.
The pictures were taken on a team outing earlier this month. The 20-year-old Beasley said Saturday that he does not drink, and the ship's captain released a statement saying the player did not "consume or even touch" alcohol on the trip.
"(It was) the fishing trip gone bad or my bad, because it was after practice and I was tired," Beasley said after Saturday's practice at AmericanAirlines Arena. "That sun was beaming down; it was the hottest day in the world. ... Fell asleep ain't the word.
"I don't drink. I don't smoke anymore. My sobriety date is 8-6-09."
Team officials also insisted Beasley did nothing wrong.
Apparently, one of the captain's guests snapped Beasley's photo and put it on his Facebook page. From there it spread to TMZ and eventually those pictures were mentioned at HoopsHype.com.
Another compromising photo was posted to Beasley's now-closed Twitter account over the summer, around the time he was a patient at a Houston rehabilitation facility, receiving treatment for substance abuse.
AUTO RACING
Keselowski holds on
Memphis, Tenn. — Brad Keselowski held off points leader Kyle Busch on the final lap to win the Kroger On Track For the Cure 250 in a green-white-checker finish in Saturday's Nationwide Series race at Memphis Motorsports Park.
Keselowski was leading when a caution came out with two laps to go because Stephen Wallace spun after tangling with Matt Kenseth. Wallace banged into Kenseth's car after the race, and the two had words on pit road.
Keselowski held onto the lead through the overtime segment. Busch finished second and leads Carl Edwards by 215 points in the standings.
Busch was on Keselowski's rear bumper coming out of the final turn. Keselowski got loose but held on for his fourth Nationwide win of the year. Jason Leffler finished third, while Mike Bliss and Brendan Gaughan completed the top five. Edwards, who won this race last year, was sixth.
Peters wins truck race
Martinsville, Va. — Timothy Peters took the lead when Denny Hamlin pitted on the 117th lap Saturday and won the NASCAR truck series race at Martinsville Speedway. Peters stopped just once in the 200-lap race, after just 33 laps, and led the final 84 laps, holding off Todd Bodine over three restarts to cruise to the win by 1.815 seconds.
Points leader Ron Hornaday Jr. finished fourth and extended his lead in the points race to 224 points over Matt Crafton with four races remaining.
SOCCER
Wizards, United tie
Kansas City, Kan. — Claudio Lopez's penalty kick in second-half stoppage time salvaged a 2-2 tie for the Kansas City Wizards against D.C. United on Saturday night. The draw effectively ended United's playoff hopes in the regular-season finale for both teams.
BASEBALL
Padres hire general manager
San Diego — Jed Hoyer was once co-general manager of the Boston Red Sox for 44 days after Theo Epstein walked away from the job. Now Hoyer has a GM gig of his own. The San Diego Padres have hired Hoyer as their new general manager, a person with knowledge of the situation said Saturday.
Mets minor leaguer dies
New York — New York Mets minor-league pitcher Rafael Castro has died of an apparent heart attack. He was 18. Castro died Friday at the Mets' academy in Carabobo, Venezuela. The Mets announced his death Saturday.
NFL
Haynesworth questionable
Ashburn, Va. — Washington Redskins defensive tackle Albert Haynesworth is questionable for Monday night's game against the Philadelphia Eagles because of a sprained ankle. Haynesworth practiced Saturday for the first time this week, but he was limited.
COLLEGE BASKETBALL
Duke rolls in exhibition
Durham, N.C. — Kyle Singler scored 21 points to lead eight double-figure scorers, and Duke routed Pfeiffer, 128-70, on Saturday night in its exhibition opener. Freshman Mason Plumlee had 18 points and 12 rebounds while older brother Miles Plumlee had 11 points and 14 boards for the Blue Devils.
TENNIS
Soderling out at Stockholm
Stockholm — Top-seeded Robin Soderling withdrew from the Stockholm Open semifinals Saturday because of an elbow injury, allowing Marcos Baghdatis to advance to the final against Olivier Rochus. Rochus outlasted Tomaz Bellucci of Brazil, 7-6 (4), 4-6, 6-3, to reach today's final.
Copyright 2018 The Associated Press. All rights reserved. This material may not be published, broadcast, rewritten or redistributed. We strive to uphold our values for every story published.