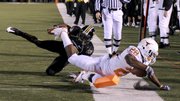 Columbia, Mo. — Colt McCoy had been off his game in recent weeks. He got it all back together against Missouri.
McCoy completed his first 11 passes and produced touchdowns on No. 3 Texas' first three drives, helping to put the Tigers away early in a 41-7 victory on Saturday night.
McCoy matched his season best with three touchdown passes, two of them to Jordan Shipley, while Texas' defense blocked a punt for a score in a nearly flawless first half that produced a 35-7 lead.
"Colt has had a very tough year," coach Mack Brown said. "He's been sick, he's been hurt, but he's tough. We've got the Colt of old back now and ready to make the stretch run."
McCoy's on-target performance helped Texas win its 11th in a row overall and he's 39-7 overall at Texas, tying Tennessee's Peyton Manning for second in career victories.
"It's amazing what not being sick will do for you," he said. "I felt great out there tonight."
The Longhorns (7-0, 4-0 Big 12) beat Missouri for the sixth straight time and Blaine Gabbert was held to 84 yards passing and a touchdown before getting pulled late in the third quarter.
"Just a lot of mistakes," Missouri coach Gary Pinkel said. "I don't care if it's the New England Patriots, I expect them to play better than that."
The Tigers (4-3, 0-3) have opened conference play with three straight losses for the first time since 2002 and by a combined score of 95-36, although the toughest stretch of the season by far is over with Missouri at Colorado (2-5) next week.
"It's a pivotal point of the season, obviously, it doesn't take a rocket scientist to figure that out," Pinkel said. "If we don't start playing better, you're never going to win a game."
The last one was essentially over by halftime, too, with Texas leading, 35-3, last year in Austin en route to a 56-31 thrashing, and in those two games Missouri has been outgained, 637-203.
This was Missouri's most lopsided loss in the series since 65-0 in 1932 and worst home loss since a 38-0 loss to Kansas State in 2002.
A homecoming crowd of 71,004, the largest since Faurot Field was reconfigured in 1995, was silenced early. Thousands were headed home by halftime and the stands less than half-full early in the fourth quarter.
McCoy was 26 for 31 for 269 yards with an interception. Shipley had seven catches for 108 yards, his fourth 100-yard game of the season, with scoring catches of 8 and 13 yards.
Copyright 2018 The Associated Press. All rights reserved. This material may not be published, broadcast, rewritten or redistributed. We strive to uphold our values for every story published.