Photo Gallery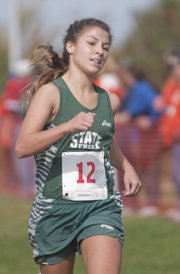 High School Cross Country Regionals
Lawrence High's Shelby Clark opened some eyes, the Lions' Roy Wedge was his reliable self and Free State High's boys joined the state party.
Saturday's Class 6A regional cross country meet at Haskell Indian Nations University was mostly upbeat for the two city schools.
Clark, a senior who had finished 20th in last week's Sunflower League meet, ran a personal best 15:54.41 to finish fourth and pace the city's female runners over the 4K course.
"I usually run slower than that," Clark said. "I've been in the 17s, but I really wanted to show everyone. I really wanted to go to state and please my coaches."
Clark qualified easily for next Saturday's 6A state championships at Rim Rock Farm. Her team did not, however. The Lions were fourth and only the top three teams advanced.
Nevertheless, teammate Lucy Daldorph, who finished 11th, slipped in among the non-qualifying team runners.
"Shelby really turned it on," Lawrence coach Brian "Chip" Anderson said. "We finished fourth as a team, but people didn't even know we were on radar last year. Now we're on the radar."
Free State's girls also failed to advance, but three of the Firebirds' runners will run again next week as individuals based on their placings and times. Hayley Francis was six seconds behind Clark in fifth place, Morgan Flannigan was seventh and Libby Wiebe slipped in by earning the 14th slot.
"That was exciting," Free State coach Steve Heffernan said of Wiebe's inclusion.
Meanwhile, Free State's boys overachieved and finished third in the team standings, meaning all seven runners will be going to state.
Sophomore Kain Anderson led the Firebirds with a sixth-place clocking. Junior Logan Sloan was eighth and senior Chris O'Brien 12th. Next was senior Harrison Scheib in 22nd place.
"Scheib is probably the reason we made it to state," Heffernan said. "That's the best he's run by about 40 seconds."
Scheib was clocked in 17:38.57 over the 5K course.
Then there were the Lawrence High boys. Odds-on favorites to capture back-to-back 6A state titles, the Lions did what they had to do and won the regional handily with 37 points, 19 fewer than perennial power Shawnee Mission Northwest.
As usual, Wedge, who has won all but two races he has entered this fall, led the pack, winning in 15:41.83, or by 11 seconds over Ryan Hocker of Olathe East.
"The team was more important than what I did today," Wedge said.
Also in the top 10 for the Lions were junior Joseph Springer (fourth) and senior Calvin Morgan (fifth). None of the seven Lions' runners wound up lower than 22nd place.
"I was really happy with their placings," Anderson said. "They came in mentally prepared."
Heffernan, for one, was impressed with the way the Lions went about their business.
"Chip has a great group of guys and their chemistry is good," the Firebirds' coach said. "They have a target on their backs after winning state last year, and they're handling it well."
Copyright 2018 The Lawrence Journal-World. All rights reserved. This material may not be published, broadcast, rewritten or redistributed. We strive to uphold our values for every story published.