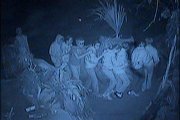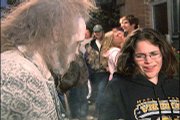 Kansas City, Mo. — Thousands of area residents are flocking to Kansas City's West Bottoms to be scared senseless. The Edge of Hell, The Beast, Macabre Cinema and The Chambers of Edgar Allan Poe are some of the country's most legendary haunted attractions. The Edge of Hell is celebrating its 35th anniversary this year.
"The Edge of Hell is considered the granddaddy of all haunted attractions in the United States," said Amber Arnett Bequeaith, vice president of Full Moon Productions. "In 1991, The Beast was created … and really turned the industry on its ear because it pioneered the open format. The theme for The Beast is all about size and magnitude."
The long lines, four days a week during September and October, attest to the reality of confronting fears. "The phobias are very different, and the psychology of fear that is studied in the layout and the plans of these houses are very unique," Bequeaith said. "Here, everyone scares differently — some crawl, some cry, some scream."
"The Rat Man" is also a regular outside the doors of The Edge of Hell since the attraction opened in 1975. He carries several live rats and tests patrons' limits before they ever enter the doors.
The newest of the four attractions are the Macabre Cinema and the Chambers of Edgar Allan Poe — nonprofit haunted houses where proceeds go to the Dream Factory, an organization that grants wishes to terminally ill children.
Its motto this time of year: "We scare because we care."
"It's amazing how many people volunteer their time to help out," said Eddie Hall, volunteer coordinator for the Dream Factory. "Everyone has a blast. We feed them dinner beforehand, and we scare all night."
The two houses are in their third season and are becoming better known attractions throughout the area. About the company's fourth haunted attraction, Bequeaith said, "'The Chambers of Edgar Allan Poe' is looking at the genius that his writings are."
Each attraction averages just under an hour to complete. The haunted houses make the West Bottoms of Kansas City one of the most frighteningly fun locations in the country in the weeks and months surrounding All Hallow's Eve. For more information, go to fullmoonprod.com.
Copyright 2017 The Lawrence Journal-World. All rights reserved. This material may not be published, broadcast, rewritten or redistributed. We strive to uphold our values for every story published.