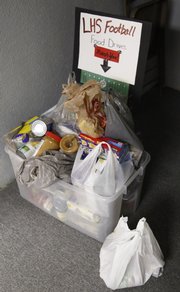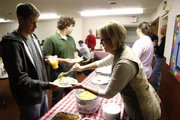 Food and football often go hand-in-hand. Players eat truckloads before and after games, and spectators master the art of cheering with a hot dog in hand.
The grub and gridiron made another connection this fall when an alert mom realized the boys suiting up for the Lawrence High football team could help others in the community, too.
Every Friday during the high school football season, the 65 or so boys load up on breakfast at Cornerstone Southern Baptist Church, 802 W. 22nd St. Terrace, before school. They've been using the church's building for team breakfasts for years, and this year they also began filling shelves of the church's food pantry.
So far, the team has brought in more than 700 items since the season began Sept. 4, and parent Mark Reiske, who organizes the breakfasts, says the kids hope to hit 1,000 items by the team's final game Friday.
"This is a great thing for us to do. We don't really have a lot of spare time between school, football and jobs, and this is something everyone can participate in," says LHS junior Chris Gaston. "It has taught me that it's not hard to help other people out. A can of food here and there really adds up."
The team's donations began with a food-heavy occasion, too — a bake sale.
Lisa Gaston, Chris' mother, stopped by the fundraiser this summer at Cornerstone on a whim. Since the last football season ended, the church began putting a lot of serious effort into its food pantry, which now helps between 20 to 30 people a month, according to pantry director Carol Belzer.
Lisa Gaston thought the pantry might provide a valuable opportunity for the student-athletes to give back to both the church and the community.
"They've allowed the team to eat pre-game breakfasts there for many, many years and been so kind to us," Lisa Gaston says of the church. "So when we found out that they have this food pantry that they've started, it seemed like a natural fit for a community service project for the boys as well as helping this church out, returning the favor to them."
The church's food pantry had been around for years, but it's just been since January that the church has really revved up operations. The changes included food drives, vouchers for fresh food at Checkers and adding hours for walk-in service rather than just operating on an as-needed basis. Now, its doors are open every Monday from 11 a.m. to 4 p.m., and the pantry is staffed with church members intent on helping those in the community who may be having trouble making ends meet.
"They're really blessing us, and we're able to turn that around and bless some other people's lives," the Rev. Gary O'Flannagan says. "This is just a great way to reach out."
It is an understatement to say that the football team has merely helped in this effort. Belzer estimates that the team's donations have tripled the pantry's inventory.
"I thought they'd do it at first, and then it would kind of drop off, but it actually increased. So I think they were enthused about doing it, too," Belzer says. "These kids are just such winners, I just can't emphasize that enough, how much we've appreciated what they've done."
The team's coach, Dirk Wedd, couldn't be happier with how helpful his Lions have been.
"Its a way for our players to learn some valuable qualities of life," Wedd says. "Giving back to the community is very important. Learning to share and care for others more needing are all values they can carry on in life. A positive influence on our community is part of our responsibility as Lawrence High Football players."
Copyright 2018 The Lawrence Journal-World. All rights reserved. This material may not be published, broadcast, rewritten or redistributed. We strive to uphold our values for every story published.