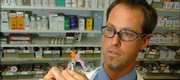 An outbreak of H1N1 Swine Flu was reported in Mexico in April 2009. By the end of May, it had spread across the U.S., with all 50 states reporting cases.
Have H1N1 questions?
Dan Partridge, director of the Lawrence-Douglas County Health Department, will answer questions about the H1N1 virus, commonly known as swine flu.
The chat will begin at 10 a.m. Tuesday at LJWorld.com. Questions can be submitted early at LJWorld.com/chats.
Partridge can talk about the virus, the vaccination for it, and the community immunization clinics.
The Lawrence-Douglas County Health Department has canceled its Oct. 29 and Oct. 31 swine flu vaccination clinics at the Douglas County 4-H Fairgrounds.
Lisa Horn, health department spokeswoman, said the decision was made based on future projections of vaccine availability.
Enough vaccine is expected to be available for just one clinic next week.
Douglas County residents who fall into the following condensed vaccine priority groups can attend the clinic from 2 p.m. to 6 p.m. Oct. 28 at the Douglas County Fairgrounds Building 21, 2120 Harper St.:
• All people ages 6 months to 18 years.
• Care providers and household members of children younger than age 6 months.
• Pregnant women.
• Health care and emergency services personnel who have direct patient contact.
In order to ensure the public is seen by 6 p.m., Director Dan Partridge encourages attendees to arrive by 5 p.m.
More clinics are planned, but these, too, are subject to change and may be rescheduled.

Both the nasal mist and injectable vaccines will be available at the Oct. 28 clinic. As part of the national H1N1 vaccine program, vaccine will be provided at no charge.
People attending the clinic can visit www.ldchealth.org to download a consent form that may be filled out ahead of time and brought to the clinic.
Copyright 2018 The Lawrence Journal-World. All rights reserved. This material may not be published, broadcast, rewritten or redistributed. We strive to uphold our values for every story published.