Leaders in Lawrence's social service community hope they've streamlined Douglas County's food pantries.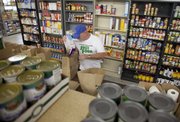 In the past, the community's pantries would experience a shortage, then organize a food drive, then run low on food, then organize a drive. That process would repeat itself.
"We've not believed that there was a lack of food in the county. What did not exist was a meaningful way of coordinating the food that was there," said Ann Weick, a retired dean of Kansas University's School of Social Welfare.
So Weick and others have worked for more than four years to streamline the food collection and distribution process for people who need it. Recently, their effort gained a boost as the Just Food partnership opened a food bank, 11th Street and Haskell Avenue.
It's also a warehouse that will distribute food to other Douglas County pantries. Now, donors have one place to drop off food.
"Our goal was to create a more sustainable long-term supply process, so we've been fortunate in doing that," Weick said. "And what we've been able to tap into is the tremendous generosity of the community."
The East Central Kansas Economic Opportunity Corp. and Just Food's advisory committee worked to expand the operation, which grew into a broad partnership among pantries of Trinity Interfaith, the Salvation Army, Ballard Community Services and Penn House.
Those sites will still operate pantries, but the Just Food site is the centralized collection and distribution site.
Many other groups — including area churches, the Douglas County Master Gardeners and several other businesses and organizations — are contributing food and donations. ECKAN and other partners helped secure the new warehouse with federal stimulus funds, and Just Food has two staff members.
Jeanette Collier, ECKAN's Douglas County coordinator, said having one warehouse also will allow distribution to pantries at critical times.
Just Food has operated as a food pantry for the last month, and food bank coordinator Catherine Keeton said about 20 families a day are served. It's open from 9 a.m. to noon and 1 p.m. to 4 p.m., Monday through Friday.
Anyone interested in helping Just Food or wishing to contribute may call Keeton, 856-7030.
Copyright 2018 The Lawrence Journal-World. All rights reserved. This material may not be published, broadcast, rewritten or redistributed. We strive to uphold our values for every story published.