About 30 third-graders from New York School made history on Wednesday.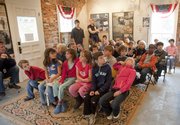 They were the first school group to tour the Murphy-Bromelsick House, a local landmark commemorating the founding of Lawrence and Kansas statehood.
"I learned that it was hard to live in the olden days," Rose Naramore-Winfrey said. "You didn't have any electronic things like Game Boys."
The kids might find it difficult to fully comprehend what life was like when the Murphy-Bromelsick House was built in 1866. The field trip, however, helped them visualize some of their history lessons.
Marty Speer, an artist, spoke to the students about his great-great-grandfather John Speer, whose land accommodates the house at Hobbs Park Memorial at 10th and Delaware streets in east Lawrence.
"There's so much here, and it's untapped," Speer said. "There's a multitude of history. It's everywhere."
Historians remember John Speer as an important advocate for the Free State cause in the battle over Kansas' statehood in 1861. He was a journalist who published Speer's Defy, an abolitionist hymn denouncing a gag law that prevented speaking about slavery. His great-great-grandson has a copy of the original document on display at the Murphy-Bromelsick House.
"When these kids grow up, what are they (going to) do?" Marty Speer asked. "What are they (going to) pass on this thing called legacy?"
Speer would like to see more school groups tour the home. He also said that the Murphy-Bromelsick House could provide some revenue for the Lawrence community.
"You would have people coming into this area like crazy," he said. "People would come, you know, if you showed them something really interesting."
Copyright 2018 The Lawrence Journal-World. All rights reserved. This material may not be published, broadcast, rewritten or redistributed. We strive to uphold our values for every story published.