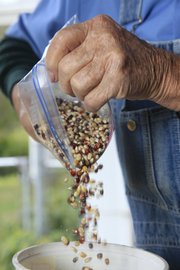 On the street
Regular buttered popcorn.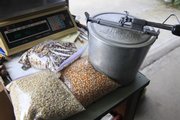 Harry Cook never planned on being the "Popcorn Man" to Lawrence's kernel lovers.
But over the past 25 years, that's what he's become. He first started growing it after acquiring his North Lawrence property in the 1980s. Over the years, he has sold up to five different types of popping kernels at the Lawrence Farmers' Market and to friends and family from his garage.
STOVETOP TIPS
Want to pop corn on the stove?
Popcorn.org, the site of the Popcorn Board, recommends using a 3- or 4-quart pan with a loose lid that allows the steam to escape, 1/3 cup of oil for every cup of kernels and enough kernels to cover the bottom of the pan, one kernel deep. Heat the oil to 400 or 460 degrees (if it smokes, it's too hot) before testing the oil on a few kernels. When they pop, add the rest. When the popping sound begins to slow, remove it from heat.
The Web site also recommends a rule of thumb that 1 ounce of unpopped corn equals a quart popped.
He hasn't grown any in two years as the commitment of growing hundreds of pounds of corn began to weigh on him. But it seems appropriate to check in with him during National Popcorn Poppin' Month.
That special designation may be an official reason for popping up some corn in October, but the unofficial reason, Cook says, is that it's just plain tasty to have warm popcorn from scratch on a cool fall day.
Cook is such a believer in it that he started growing it the second he had space for a garden.
"I always raised popcorn when I was a kid," says Cook, 80, who grew up in Nebraska. "It's grown on a stalk, just like sweet corn. But you've got to pick it and shell it off the cob. It's a lot of work."
It might be a lot of work, but when stored properly, it can keep for a good amount of time. Cook has kernels dating back four years, and they're still poppable.
It's also work that is worth it for Lawrence's Amy Saunders. Saunders used to buy 50-pound bags of kernels from Cook before beginning to grow it herself on her cattle farm as a project for her children, ages 7, 3 and 1.
"We live out in the country, so we have lots of garden space. And so it was kind of a fun thing that the kids and I could do and do it for Christmas for my dad and my husband," she says, adding that the kids help. "They helped me plant and weed a little bit. We kind of had to have a discussion over what was weeds and what was popcorn."
She hopes to have enough for a 50-pound bag of kernels for her family and a 50-pound bag for her father, the family's caramel corn connoisseur.
"My dad makes a caramel popcorn that we all get in line and wait for," says Saunders, who runs Amy's Meats. "That's usually the request from my husband for his birthday present — his yearly birthday present is a trash bag full of caramel corn. It definitely doesn't last very long even though it sounds like a lot of popcorn."
It also might sound extremely tasty to someone who has only made popcorn in a pre-portioned bag. Cook says that you don't need any special tools to make homemade popcorn, though he has his share of popping contraptions.
"We put it in one of these theater poppers and pop it on the stove," he says. "But you can take this, too, and throw it in a paper sack and pop it in the microwave, just like the ones you get in the store — you just fold your sack down."
Don and Maxine Bryant of Jefferson Hill Farm and Winery in McLouth, who make cinnamon corn and poppycock that they sell at the Farmers' Market, use a Dutch oven to pop their kernels before putting them in the oven with toppings for a finished product.
"It probably takes about three minutes," Bryant says. "It is really an all-American treat."
---
SPICE UP YOUR POPCORN FOR GOURMET TASTE
Caramel Corn Crunch
1/2 cup butter
1/2 cup brown sugar, firmly packed
3 quarts popped popcorn
Cream butter; add brown sugar and whip until fluffy. In a large baking pan, combine popcorn. Mix in creamed mixture. Bake in a 350-degree oven for about 8 minutes or until crisp.
— Recipe from www.popcorn.org.
Gingersnap Popcorn Snack Mix
2 quarts popped popcorn
Butter-flavored cooking spray
1/3 cup granulated sugar substitute
2 teaspoons ground ginger
1/2 teaspoon freshly ground nutmeg
1/4 teaspoon cinnamon
1/4 teaspoon ground cloves
1/8 teaspoon freshly ground black or white pepper
Preheat oven to 325 degrees. Spread popcorn on baking sheet and spray lightly with the cooking spray. Combine remaining ingredients in a small bowl and sprinkle evenly over popcorn. Spray again with cooking spray and toss to coat evenly. Bake 7 minutes and serve warm.
— Recipe from www.popcorn.org.
Chili Lime Popcorn Snack Mix
1 quart popped popcorn
1 teaspoon brewer's yeast powder or nutritional yeast
1 teaspoon lime juice
1/2 teaspoon chili powder
1/4 teaspoon salt
Preheat oven to 300 degrees. Spread popcorn on a baking sheet. Sprinkle yeast powder, lime juice, chili powder and salt over popcorn. Heat about 7 minutes and toss just before serving. Serve warm.
— Recipe from www.popcorn.org.
Rosemary Parmigiano-Reggiano Popcorn
4 quarts popped popcorn
1 tablespoon butter
1 tablespoon olive oil
2 teaspoons finely crushed rosemary (fresh or jarred)
1/4 cup grated Parmigiano-Reggiano cheese (or Parmesan cheese)
1 teaspoon garlic salt or sea salt
1/8 teaspoon white pepper, optional
Place popcorn in a large serving bowl. Mix butter, olive oil and rosemary together in a small bowl; microwave 20 seconds to melt butter. Stir butter mixture and pour over popcorn; toss. Sprinkle cheese, garlic salt and pepper over popcorn; toss again and serve.
— Recipe from www.popcorn.org.
Copyright 2018 The Lawrence Journal-World. All rights reserved. This material may not be published, broadcast, rewritten or redistributed. We strive to uphold our values for every story published.