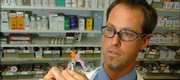 An outbreak of H1N1 Swine Flu was reported in Mexico in April 2009. By the end of May, it had spread across the U.S., with all 50 states reporting cases.
Douglas County H1N1 updates
The Lawrence-Douglas County Health Department will have its first swine flu immunization clinic today.
The clinic will be from 2 p.m. to 6 p.m. at Haskell Indian Nations University's Coffin Sports Complex, 155 Indian Ave.
The department, which has received 4,200 doses of both nasal spray and injectable vaccines, will provide them at no cost for any Douglas County resident in the priority group: pregnant women, people between 6 months and 24 years, people who live with or care for children younger than 6 months, health care and emergency services personnel, and people ages 25 through 64 who have health conditions associated with higher risk of medical complications.
Three other clinics are scheduled next week at the Douglas County 4-H Fairgrounds, 2120 Harper St:
• 2 p.m. to 6 p.m. Oct. 28.
• 4 p.m. to 8 p.m. Oct. 29.
• 9 a.m. to 1 p.m. Oct. 31.
For more information, go to LJWorld.com/swineflu
.
Copyright 2018 The Lawrence Journal-World. All rights reserved. This material may not be published, broadcast, rewritten or redistributed. We strive to uphold our values for every story published.