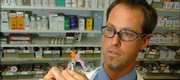 An outbreak of H1N1 Swine Flu was reported in Mexico in April 2009. By the end of May, it had spread across the U.S., with all 50 states reporting cases.
The first shipment of swine flu vaccines arrived Monday at the Lawrence-Douglas County Health Department.
Charlotte Marthaler, director of policy and planning, said the department received 1,900 doses of both nasal spray and injectable vaccines. It expects to receive another shipment of 2,400 doses before its first H1N1 community immunization clinic Wednesday.
Lisa Horn, spokeswoman for the health department, said the first clinic will be open to any Douglas County resident who fits into the priority group.
Those in the priority group are: pregnant women, people between 6 months and 24 years old, people who live with or care for children younger than 6 months, health care and emergency services personnel, and people ages 25 through 64 who have health conditions associated with higher risk of medical complications.
"Please be patient because the groups that are in the priority groups are there for a reason," Horn said. "These are the people that the studies have shown to be the most at risk for getting serious complications from H1N1, so we want to reserve these initial doses for those people that could be impacted most," Horn said.
She said the health department doesn't expect a shortage of H1N1 vaccine. It has just been slower to arrive than expected. At beginning of October, the department had hoped to have received 8,000 doses by now.
"It's roughly half of what we hoped it would be," said director Dan Partridge. But he said the department anticipates the shipments will increase in the coming weeks.
The department will provide the vaccine at no cost.
What to expect
The first immunization clinic will be from 2 p.m. to 6 p.m. Wednesday at Haskell Indian Nations University's Coffin Sports Complex, 155 Indian Ave. There will be a five-step process that individuals go through to get the vaccine:
• First, health department officials and volunteers will try to make sure individuals qualify to be in the priority group by asking questions and providing information as they arrive or wait in line.
• Second, people need to fill out a consent form. To speed up the process, individuals can download and print the consent forms from the health department's Web site at www.ldchealth.org. If individuals bring a consent form, they can skip this step.
• At a third station, workers will review the consent forms to make sure they are filled out completely, correctly and are legible.
• Then people will move to another station where health professionals will review the information to determine which vaccine to administer. The nasal spray has been approved for only people between the ages of 2 and 49 and are healthy.
• Last, individuals will be escorted to one of five stations to receive a vaccine.
About 50 people will be assisting with the clinic.
"We are available to answer whatever kinds of questions people might have about the vaccine or about any kind of side effects," Marthaler said.
She said the health department's administrative offices will be closed Wednesday because staff members would be helping with the H1N1 immunization clinic. Also, the health department's clinic at 200 Maine St. will be open only for those who have made prior appointments.
The health department also will be keeping track of every individual who receives a vaccination and reporting it to the Kansas Department of Health and Environment.
Partridge said the department expects to receive $500,000 in federal funding through July for its efforts in dealing with the swine flu. The funding will help pay for staffing and supplies.
Other clinics
So far, the department's three other H1N1 immunization clinics are still scheduled. They are at the Douglas County 4-H Fairgrounds, 2120 Harper St.:
• 2 p.m. to 6 p.m. Oct. 28.
• 4 p.m. to 8 p.m. Oct. 29.
• 9 a.m. to 1 p.m. Oct. 31.
Kansas University also has scheduled swine flu immunization clinics for students, staff, faculty and retirees. They will be from 10 a.m. to 2 p.m. every Friday from Nov. 6 through Dec. 4, except Thanksgiving Day weekend.
The immunization clinics will move around. Here's the schedule: Nov. 6, Mrs. E's cafeteria in Lewis Hall; Nov. 13, Kansas Union ballroom; Nov. 20, Ambler Student Recreation Fitness Center; and Dec. 4, Kansas Union ballroom.
Marthaler said she is working with about 25 health care providers who are interested in providing the H1N1 vaccine. So far, 13 have been approved to do so, including nine clinics and three pharmacies. She said one doctor will be providing the vaccine for his or her staff.
Partridge said planning has been tough because they have no idea how many people want the vaccination and they are unsure how much vaccine they will be getting from week to week.
"It's a pretty fragile system yet," he said.
Copyright 2018 The Lawrence Journal-World. All rights reserved. This material may not be published, broadcast, rewritten or redistributed. We strive to uphold our values for every story published.