Here in Kansas
Last year, 11 Kansas districts operated with a four-day school week. Dale Dennis, a deputy Kansas education commissioner, said the move to four days was designed to save on transportation, food service and utility costs. He said that number had likely increased this year because of budget constraints, but the state didn't have official numbers yet.
Kansas requires the length of the school year to consist of 186 six-hour days or 1,116 total hours.
Honolulu — At a time when President Barack Obama is pushing for more time in the classroom, his home state has created the nation's shortest school year under a new union contract that closes schools on most Fridays for the remainder of the academic calendar.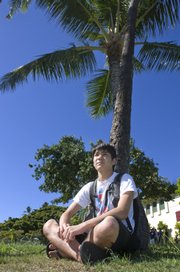 The deal whacks 17 days from the school year for budget-cutting reasons and has education advocates incensed that Hawaii is drastically cutting the academic calendar at a time when it already ranks near the bottom in national educational achievement.
While many school districts have laid off or furloughed teachers, reduced pay and planning days and otherwise cut costs, Hawaii's 171,000 public schools students now find themselves with only 163 instructional days, compared with 180 in most districts in the U.S.
"The 16-year-old in me is pretty excited that I'll be able to chill on those days," said Mark Aoki, a junior at Roosevelt High in Honolulu. "But overall within me, what I truly believe is that we'll regret this."
The cuts come as Obama, who graduated from a top private high school in Hawaii, says U.S. students are at a disadvantage with other students around the world because they spend too little time in school.
He wants schools to add time to classes, to stay open late and to let kids in on weekends so they have a safe place to go. He declared recently that "the challenges of a new century demand more time in the classroom."
The deal in Hawaii and has parents and education authorities up in arms, including families now scrambling to find day care for the off days. Parents of special-needs students are considering suing the state, and advocates believe the plan will have a "disparate impact" on poor families, ethnic communities and single parents.
"It's just not enough time for the kids to learn," said Valerie Sonoda, president of the Hawaii State Parent Teacher Student Association. "I'm getting hundreds of calls and e-mails. They all have the same underlying concern, and that is the educational hours of the kids."
The new contract, approved by 81 percent of voting teachers, stipulates 17 furlough Fridays during which schools will be closed, with the first happening this Friday. The teachers accepted a concurrent pay reduction of about 8 percent, but teacher vacation, nine paid holidays and six teacher planning days are left untouched.
The new agreement also guarantees no layoffs for two years and postpones the implementation of random drug testing for teachers.
Hawaii has the nation's only statewide school district, meaning that state government pays directly for education instead of self-supporting local school districts.
Copyright 2018 The Associated Press. All rights reserved. This material may not be published, broadcast, rewritten or redistributed. We strive to uphold our values for every story published.