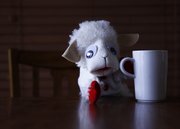 Not enough sleep — it's a problem facing millions of Americans, and its causes could be rooted in a wide array of different behaviors and diseases.
Among the millions of Americans who admit they probably don't get enough sleep were Kansas University students Gillian Dryton and Katie Stocker, who were both enjoying a caffeinated beverage at Borders bookstore on a recent weekday afternoon.
Did they think those coffees and teas would keep them up at night?
"I'm sure it does," Stocker says. "But that's the nature of being a student, I guess."
Stocker says she's usually in bed by 2 a.m. and up by 9 or 9:30 a.m.
For Dryton, she says that grande latte in the morning, those Cokes in the afternoon and another grande latte in the early evening tend to keep her up at night.
"It's just hard to fall asleep," she says. "I wake up four or five times a night."
It's a refrain all too familiar to Bob Whitman, the director of KU Hospital's Sleep Disorders Center.
The No. 1 factor he sees in those who complain they can't get enough shut-eye?
"Caffeine intake," he says. "It stays in the body for a number of hours."
He says many of the people who come to him with trouble sleeping are drinking caffeine too late in the day — much like the sleep-deprived KU students in the bookstore.
Those caffeine-rich coffees and sodas? Probably not a good idea after noon, Whitman says.
There are a whole host of good reasons to cut the caffeine and other sleep-disruptive habits, too. According to The Associated Press, a 2008 study conducted by the National Center for Health Statistics, part of the Centers for Disease Control and Prevention, linked the lack of sleep to a number of issues, including higher risk for obesity, smoking, alcohol use and less physical activity.
A separate 2008 study in the journal Sleep said disorders like sleep apnea can even lead to higher death rates.
Other symptoms of sleep deprivation include fatigue, irritability, inability to tolerate stress, problems with concentration and memory, frequent infections, blurred vision, changes in appetite and activity intolerance, according to information from KU Hospital's Sleep Disorders Center.
Whitman, meanwhile, recommends several tips for those looking to improve their "sleep hygeine."
"These are the things you really need to be doing every night to help get to sleep and maintain your sleep," he says.
1. Get enough sleep
While individual sleep needs can vary from person to person, it's probably safe to bet that an average person need about seven to nine hours of sleep per day — something that Whitman acknowledged can be difficult with the frenetic pace of the contemporary world.
"In today's society, a good share of Americans probably get less than seven hours of sleep," he says.
Any time you fade in and out during periods of inactivity — while watching TV for example, or zoning out staring at a computer screen — it's probably an indication that you're not getting enough sleep, Whitman says.
2. Watch for sleep disorders
If a person is constantly tired, there may be some sleep disorders at the root of the cause, Whitman says. As obesity levels rise in the country, so do cases of sleep apnea — a condition where a person can stop breathing during sleep.
Loud snoring can be a cause of sleep apnea. Whitman encourages anyone who thinks they may have a problem to get checked out.
3. Create a comfortable environment
Most people prefer a cooler rather than warmer temperature when sleeping, Whitman says, but it's best to ensure that sleep happens in a comfortable, dark room.
Light can disrupt the circadian rhythm, a sort of internal clock that regulates the body's sleep-awake schedule. Dark shades that keep out light are important for those who may have to sleep during the day, he says.
4. Watch when you exercise
Though a regular exercise routine helps people fall asleep, it's best not to exercise for about six hours before going to bed.
5. Maintain regular bedtimes — and waking times
Keep a specific schedule. Whitman says that while consistent bedtimes are important to getting proper sleep, consistent waking times are even more important.
"Young people tend to really mess this one up," he says.
Sleeping in an hour or so extra on the weekends probably won't hurt too much, but it's best not to go too much further than that, Whitman says.
6. White noise can help
Several tapes are available with a varying degree of sounds to help you fall asleep and stay asleep. Whitman says they tend to work well, but he doesn't recommend keeping the television set on when sleeping.
Sudden changes in the volume levels can disrupt sleep, even if it doesn't wake a person all the way up, he says.
These and other tips, like keeping stress levels down and eating a light snack before bed, can help remedy some sleep issues faced by the general public, Whitman says.
Copyright 2018 The Lawrence Journal-World. All rights reserved. This material may not be published, broadcast, rewritten or redistributed. We strive to uphold our values for every story published.