Groovin' for Groovability
What: Dance-a-thon fundraiser.
Who: Members of the wheelchair dance troupe Groovability.
When: Noon-7 p.m. Saturday.
Where: 68 Inside Sports, 11301 W. 88th St., Overland Park.
More information: Call JoAnne Fluke at (785) 248-3023 or e-mail jfluke@groovability.org.
Groovability wheelchair dancing
Photo Gallery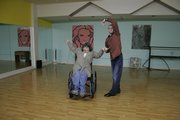 Groovability wheelchair ballroom dancing
Members of the Groovability wheelchair dance troupe practice at the Bella Performing Arts Studio in Kansas City, Mo.
Kansas City, Mo. — The dance music blares through the halls of this office building in Westport. Sometimes it's a waltz. Sometimes it's a samba. Sometimes it's hip-hop.
Bella Performing Arts Studio, across the way from an architect's office, is a one-room dance studio with a wood floor, mirrors on one wall and Warhol-esque paintings on the others.
Walk through the hall and peek at the mirror through the cracked door, and you're likely to see a scene you might not expect.
Instructor Chris Pruitt, a thin man with hair in a ponytail, glides across the floor pushing, pulling and dipping a woman in a wheelchair. There is complex choreography, the kind dancers perfect over months.
This is Groovability, a small Kansas City wheelchair ballroom dance troupe that is hoping to change the world, in more ways than one.
"We're good dancers," says Lawrence resident Lorraine Cannistra. "We're not just good dancers who happen to use wheelchairs."
All about moves
Groovability was founded two years ago. Ottawa resident JoAnne Fluke had seen demonstrations of wheelchair ballroom dancing and called Pruitt, a dance instructor, to see if he would teach her.
Pruitt had never had experience with people in wheelchairs, let alone taught them to dance.
"I told her I would do it, but that I don't teach anybody any different, whether you're using a wheelchair or not," he says.
To learn for his new teaching role, he spent three days in a wheelchair, doing everything from using the restroom to taking a shower. That, along with his other experiences with the Groovability dancers, has altered his perspective on life.
"It's taught me more about dancing and life than I've taught them," Pruitt says. "It's made me think more about the fundamentals — both about dancing and in life."
Pruitt dances as the male lead with most of the dancers. He helps to push and pull them around the room, with their balance, arm movements and own chair control guiding the way.
"The amazing thing is, if you're teaching this — and Chris will tell you this, too, — it's almost like teaching it to anybody else," Fluke says. "The main thing you have to watch for, as a lead, is you don't get run over."
Pruitt admits he's had some sore toes over the past couple of years. But it's well-worth what he's received.
"I don't think you truly understand some of the life lessons you learn about people with difficulties and life challenges until you're working with Lorraine, JoAnne and the other girls and guys," he says.
Practical, graceful
Cannistra is learning life lessons of her own.
The 41-year-old has adapted to cerebral palsy her entire life. She was Miss Wheelchair Kansas 2007, but she didn't find her true inspiration until the pageant ceremony the following year.
That's when she saw a demonstration of wheelchair ballroom dancing.
"I watched the ballroom dancing exhibition, and I cried," she says. "It was so graceful, and I'm not used to using that word with wheelchair users."
It took her awhile until Fluke convinced Cannistra to try ballroom dancing herself.
"It was something I never thought I could do," Cannistra says. "It's still a challenge."
Her upper body strength doesn't allow her the same mobility of other wheelchair dancers. And her cerebral palsy sometimes makes her muscles spasm when she's under stress — like when she's frustrated learning a routine, or when she's performing in a competition.
Still, Cannistra says wheelchair ballroom dancing has changed her life. Not only has it helped her understand how to better control her wheelchair, it has helped her self-confidence. She gives presentations about empowering people with disabilities, and the dancing has given her new material to talk about.
"It has expanded my mind for what is possible for me to do," she says. "Three years ago, the idea of trying wheelchair ballroom dancing would not have been possible. This has made me look at what I can do in a new light."
Life-changer
Pruitt is moving to Hawaii in two weeks. Those involved with Groovability are trying to find new instructors.
Fluke says there are similar groups on the coasts but not many in the Midwest. Her group only has about a half-dozen members, but they're actively recruiting new dancers. They're staging a Dance-a-Thon next weekend to help raise money for the group and show off their talents. They'd like to start a Groovability chapter in Lawrence, if they could find the studio and instructor.
Fluke would like to see ballroom dancing included in the Paralympics.
"It's a sport," she says.
She thinks that distinction would help teach those who use wheelchairs that dancing could help their daily lives.
"I've been in a wheelchair all my life," she says. "They really don't teach you the best way to push a wheelchair. They say, 'If a person can maneuver a wheelchair from point A to point B, that's good.' But we've realized with dancing, when you touch that wheel, it's part of an art."
And some of the habits she has fallen into, such as taking half-pushes instead of longer, full pushes, aren't the most efficient ways to move.
Cannistra appreciates those practical lessons. But for her, the bigger lessons are about self-confidence.
"I'm not sure I can adequately express it," she says. "It's a life-changing thing. It has completely altered my perspective about what I can do."
Copyright 2018 The Lawrence Journal-World. All rights reserved. This material may not be published, broadcast, rewritten or redistributed. We strive to uphold our values for every story published.