Photo Gallery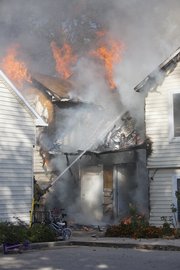 Apartment fire at Fifth and Wisconsin Streets
Several apartment units were heavily damaged Sunday afternoon when a fire broke out at a complex at Fifth and Wisconsin streets.
The two-alarm fire was reported just after 4 p.m. Sunday. Flames were shooting through the roofs of three units of the Rose Gardens Apartments, and the ground-level living areas under them also were damaged. There is also a detached fifth apartment just west of the fourplex where the fire broke out, which sustained moderate damage, according to Lawrence-Douglas County Fire Medical officials.
"We looked out the window, and we saw orange flashes," said Angela Viles-Shop, who lives in the detached unit. "We opened the window and heard crackling and there was fire coming out of the unit across from us."
A firewall helped the firefighters contain the flames and prevent greater damage to the two units on the north end of the fourplex.
"There's a firewall between apartment one and two, and the crews were able to stop the fire from spreading," Fire Medical division chief Eve Tolefree said. "Wind was a factor as well."
All of the residents who were home evacuated safely. Tenants said one resident was not at home when the fire broke out. All residents were accounted for later Sunday night.
The fire was reported under control a little after 5 p.m. Sunday but Fire Medical crews and police officers remained at the scene for several hours more.
The Douglas County chapter of the American Red Cross was also on scene to assist the displaced residents with food, clothing and shelter.
An investigation into the cause of the fire is being conducted, and damages are being assessed.
Copyright 2018 The Lawrence Journal-World. All rights reserved. This material may not be published, broadcast, rewritten or redistributed. We strive to uphold our values for every story published.