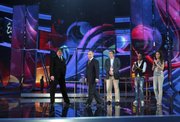 Moscow — From the Cold War to a Battle of the Bands.
Prime Minister Vladimir Putin, by some accounts a big fan of ABBA, has suggested organizing an international song competition for Russia, Central Asia and China, saying it would strengthen cultural ties among the nations.
"Uzbekistan Idol" perhaps? Or maybe "Tajikistan's Got Talent."
Europe has been holding such a competition for decades, called the Eurovision Song Contest. Known for campy and glitzy performers, the annual showcase for singers and musicians from across the continent typically attracts 100 million viewers or more from around the world on TV and the Internet.
After regional competition, the overall winners are chosen by a panel of judges and telephone or text voting by participating countries, similar to "American Idol," although fans cannot vote for their own nation's entry. The most famous winners of the contest include ABBA in 1974 and Celine Dion in 1988.
Russia won the competition in 2008 with heartthrob Dima Bilan's song, "Believe."
Moscow is still beaming after hosting Eurovision in May, watched by 125 million Europeans.
Some contestants tried to inject politics into the event, with the pop group Stephane and 3G from Georgia vowing to perform "We Don't Wanna Put In" — a thinly veiled jab at the Russian prime minister stemming from the war between Russia and Georgia in 2008. The group pulled out when organizers warned that politically charged songs would not be permitted.
Putin has tried to bring the world's top events to Russia to showcase it as a prosperous, modern nation. He personally campaigned successfully to bring the 2014 Olympics to the Black Sea resort of Sochi, and he met Thursday with Sepp Blatter, the head of soccer's governing body, to push Russia's bid for the 2018 or 2022 World Cup.
Putin first suggested creating a Eurasian version of the contest this week in China, dubbing it "Intervision," to take place among members of the Shanghai Cooperation Organization — a regional economic and political pact designed in part to counter NATO.
Eurovision's organizers sounded flattered by the proposal Friday, but also reminded the former KGB officer that he can't create a televised pan-regional songfest without buying the intellectual property rights from them.
"We own the rights to an international song contest. We would be happy to sell the format to Prime Minister Putin," said Bjoern Erichsen, a director with the European Broadcasting Union.
Copyright 2018 The Associated Press. All rights reserved. This material may not be published, broadcast, rewritten or redistributed. We strive to uphold our values for every story published.