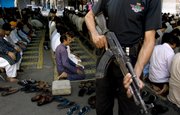 Islamabad — The Pakistani military is setting its sights on the Taliban's remote sanctuary after nearly two weeks of big bombings across the country, as hundreds flee the Afghan border region each day before what promises to be the army's riskiest offensive yet.
With the first snows of winter less than two months away, the army has limited time to mount a major ground attack. The U.S. is racing to send in night vision goggles and other equipment. The Pakistani military insists it's sealing off supply and escape routes, forcing the militants to rely on goat paths.
The army has tried three times since 2001 to dislodge Taliban fighters from their stronghold in South Waziristan, part of the lawless tribal area along the border. All three previous attempts ended in negotiated truces that left the Taliban in control.
This time, however, military spokesman Gen. Athar Abbas said there will be no negotiations for fear any deals would be seen as a failure and could jeopardize gains won last spring when Pakistani soldiers wrested control of the Swat Valley, elsewhere in the northwest.
"If we fail, everything is rolled back," Abbas said.
Failure would also deal a humiliating blow to government security forces. A series of assaults against government installations, including the army's general headquarters, has shown the Taliban along the mountainous border and their allies in the heart of the country are bolstering an alliance capable of challenging the Pakistani state.
The U.S. says the results of the South Waziristan campaign will also help determine the success of the faltering American war effort in Afghanistan. Militants use the Waziristan region as a base from which to launch attacks across the border — and beyond.
"This region is at the heart of the struggle against al-Qaida, the Taliban, and other global jihadi movements. It is a lawless sanctuary for extremists and would-be militants of every shape, size, and color," said Evan Kohlmann, whose U.S.-based NEFA Foundation follows terrorist groups.
"It is perhaps the only place on earth where a mujahedeen commander from Uzbekistan can plausibly establish a hardened base of operations, staffed primarily by like-minded fighters of Turkish, Chinese, Danish, and German extraction," Kohlmann said. "Most of the jihad training camps frequented by foreign nationals and featured in al-Qaida and Taliban terror propaganda videos are located in either North or South Waziristan."
Foreigners require special permission to enter tribal areas. Many Pakistani journalists from other parts of the country are at risk in areas controlled by militants.
Copyright 2018 The Associated Press. All rights reserved. This material may not be published, broadcast, rewritten or redistributed. We strive to uphold our values for every story published.