New York — Colin Beavan sat under the light of a single bulb, freaking out.
Along with his wife and young daughter, he had just spent a year trying to reduce their net environmental impact to almost zero. With a flip of a switch, they had cut their Manhattan apartment off from the electrical grid. They had stopped using anything disposable or buying anything new. In a city of skyscrapers, they had given up elevators. They went everywhere by bicycle, bought food directly from local farmers, had even sworn off toilet paper.
It had been a year of rules, a year in which nearly every aspect of their lives had been shaped by what they were not allowed to do. And now it was over.
So Beavan sat at home. If he had to get up to go to the bathroom, he would walk to the other room and turn on the light there — and then run back to turn off the first light. He just couldn't let himself light up more than one bulb at once. He walked around the apartment unplugging things.
Once, Beavan and his wife, Michelle Conlin, had lived lives of take-out dinners and taxi rides, recreational shopping and reality TV. But as his family cut back — and as he learned more about the devastation wrought worldwide by human consumption — he had found relief, and an easier conscience.
Now, as he turned the lights back on, he had to admit that he was once again part of the problem. The new freedom and the old guilt. It felt awful.
Beavan's experiment with the extreme had played out in public; he had blogged about it on his site "No Impact Man" (which would beget a book under the same name, published last month, and a documentary).
But now, like so many of us who are grappling with a growing awareness of the dangers faced by the planet and the damage our lifestyles cause, Beavan and his family were faced with the challenge of finding their own middle ground.
With their years of excess and their year of simplicity behind them, how would they choose to live?
•••
Little Isabella was not yet 2 when the experiment began, but she already knew who "the man" was.
Nearly every morning, as her family prepared for the day in their one-bedroom, lower Fifth Avenue apartment, "the man" would arrive with a bag of breakfast bagels. At night, he'd pass their doorman carrying a plastic bag filled with cartons from Big Enchilada. Or with Chinese food. Or with deli fare.
On the street, Bella would spot a bicyclist riding by, and she'd point and yell: "There's the man!"
In the evenings, they'd settle down to eat in front of their TV. Conlin, a journalist who writes for BusinessWeek, was obsessed with reality shows: "The Bachelorette," "Paradise Hotel," "Temptation Island."
One day, in the depths of "Bridezillas," she looked over and saw Bella wasn't just sitting next to her — she was watching intently. Conlin's heart sank a little. This wasn't what she wanted for her daughter.
Meanwhile, Beavan — a self-professed guilty liberal who had written books on the history of forensics and of D-Day — found himself railing about the travesty of global warming. But after returning to his apartment from a meeting with his agent only to discover he'd left the air conditioner running, he started to question whether he had any right to complain.
So Beavan arrived at the idea for the experiment, both as environmental activism and as subject for his next book. Conlin, eager to eliminate what she felt were her addictions, suggested that shopping, TV and movies should be among the first things to go.
Instead of "the man," food now came from the farmers. They began eating vegetarian and shopping at the local farmer's market, eating only things they already had in their apartment or that were grown within 250 miles. At night, the three of them would sit around the table together and ... talk.
"The hearth was the TV before 'No Impact,"' Conlin says now. "After we gave away the TV, the hearth became our family table. ... I gave up reality TV for reality."
It was a trade they had no intention of reversing, once the experiment was over. So much of what they'd thought would feel like sacrifice had ended up being nothing of the sort.
•••
When the year was over, Conlin and Beavan didn't want to set any more rules for themselves. After all the restrictions, they wanted to finally let it all go and see what felt right.
Mostly, they stuck to buying their food at the farmer's market. But if they were short on groceries after a late night at work, they would stop at the supermarket — despite the packaging on the food on the shelves, despite the distance it had traveled.
While the amount of garbage they produced increased from a single quart every four days to five gallons, this was a far cry from the 90 gallons they produced before the experiment. Their refrigerator is back on, but their freezer is gone.
They started buying olive oil and some seasonings, even though they're not made nearby. They began saying yes when friends invited them out to dinner. And they started using toilet paper again — but now it was made from recycled paper.
Neither of them wanted to bring back their giant, 46-inch TV. But once a week or so, if they're in the mood, they'll watch a drama on a laptop.
It was an obvious choice to keep the rickshaw bikes they'd come to love — three-wheelers with space for groceries and a seat for Isabella. But now, when it rains, they sometimes take the subway.
The air conditioners once seemed like a necessity. But take them away, and the heat and the lack of electronic entertainment drove the family outside, where they spent most evenings at the fountain at Washington Square Park. They cooled off in the mist of the fountain, looked around at the virtual circus of performers who have made the public plaza their stage. They talked with neighbors.
No longer hunkered down in their family's lonely bubble, they were out in the city. They loved it.
•••
As Beavan sees it, it's just like a graph he sketched during the year of no impact.
With either extremely high or very low resource use, quality of life was poor. But there was a virtual sweet spot, right at the peak, when they had enough to be happy but not so much that they were weighed down.
Since the year ended and left them to their own devices, they've been trying to find a way to get back to that point.
"In some ways, the project actually really began the day we ended," Conlin says now. Beavan chimes in: "We still haven't actually figured out the way we want to live."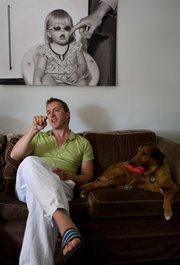 Copyright 2018 The Associated Press. All rights reserved. This material may not be published, broadcast, rewritten or redistributed. We strive to uphold our values for every story published.