Lexington, KY — On a stage befitting a rock star, John Calipari got his first taste of a packed house at Rupp Arena on Friday night and promised to return Kentucky basketball to "its rightful place at the top of the mountain."
The new Wildcats coach made his entrance around 8:40 p.m. to chants of "Go Big Blue" during the program's preseason pep rally, Big Blue Madness. Then he spent the next 15 minutes delivering a rousing speech to a crowd that needed little convincing.
"I see the foundation for my vision of this program," said Calipari, at points yelling so loud that his voice seemed to crack. "It's a vision where we are the gold standard, not just for college basketball but for all college athletics."
Smoke and pyrotechnics filled the air as Calipari — decked in a gray shirt, not blue — strolled across a huge stage erected at one end of the arena, flanked by three enormous video boards and surrounded by screaming fans.
Calipari's first words to the sellout crowd: "All I can say, you all are awesome."
Before his arrival, the players were introduced one by one — standing on a catwalk above the center video screen as their names were called.
A stirring video montage showed film clips — many of them black and white — of the great moments in the history of Kentucky basketball, which has won seven national titles and has more victories than any other program. Among the words on the screen during the montage: "Envy our past. Fear our future."
After the players lined up to show off their best dunks, they split up into teams for the customary scrimmage, which all-Southeastern Conference center Patrick Patterson started with three baskets — including two dunks.
COLLEGE BASKETBALL
Tar Heels draw 19,000
Chapel Hill, N.C. — Defending national champion North Carolina is back on the court. The team held its annual "Late Night with Roy" event Friday night, which drew about 19,000 fans for a show that included team skits, music and dancing before the Tar Heels held an intrasquad scrimmage.
It was the start of the program's centennial basketball season and the debut of this year's squad under coach Roy Williams, which includes freshmen David and Travis Wear — the first twins to play for the Tar Heels.
AUTO RACING
Busch Nationwide winner
Concord, N.C. — Kyle Busch shrugged off walking pneumonia to dominate the Nationwide Series race at Lowe's Motor Speedway on Friday night, picking up his seventh victory of the year to extend his points lead over Carl Edwards with four races remaining.
Mike Bliss was second, followed by Dave Blaney and Brian Vickers. Edwards finished fifth to drop 195 points behind Busch.
NBA
Williams convictions upheld
Somerville, N.J. — A ruling by a New Jersey judge Friday set the stage for a second manslaughter trial for former NBA star Jayson Williams, whose lawyers argued that a racial slur and other misconduct by the prosecutor's office should result in dismissal.
State Superior Court Judge Edward Coleman upheld Williams' convictions for covering up the shooting death of a hired driver and rejected attempts to dismiss a retrial early next year on the manslaughter charge.
Defense attorneys' latest attempts to clear Williams centered on a racial slur an investigator in the Hunterdon County Prosecutor's Office used to describe the basketball star, who is black.
T'wolves' Love breaks hand
Chicago — Minnesota forward Kevin Love fractured a bone in his left hand during the Timberwolves' 94-90 preseason loss to the Chicago Bulls on Friday night and likely will miss about six weeks.
GOLF
Campbell, Matteson tied
Las Vegas — Chad Campbell closed with an eagle on the par-5 ninth for a 9-under 62 and a share of the second-round lead Friday with Troy Matteson in the PGA Tour's Justin Timberlake Shriners Hospitals for Children Open.
Campbell, a former UNLV player, also had seven birdies in his bogey-free round in warm conditions at TPC Summerlin. Matteson followed his career-best 62 with a 67 to match Campbell at 13-under 129.
Forsman's 64 best
The Woodlands, Texas — Dan Forsman reeled off six straight birdies Friday for an 8-under 64 and a one-shot lead after the first round of the Champions Tour Administaff Small Business Classic.
Molinari keeps lead
Vilamoura, Portugal — Francesco Molinari has matched the lowest halfway total of the European Tour this season to take a one-stroke lead after the second round of the Portugal Masters. The Italian shot a 6-under 66 on Friday.
TENNIS
Nadal reaches semifinals
Shanghai — Rafael Nadal advanced to the semifinals at the Shanghai Masters on Friday, benefiting from yet another retirement when Ivan Ljubicic became the eighth player to quit while playing in the tournament this week. The match ended 3-6, 6-3 when Ljubicic retired duw to a left hip injury.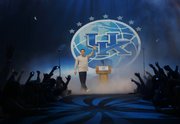 Copyright 2018 The Associated Press. All rights reserved. This material may not be published, broadcast, rewritten or redistributed. We strive to uphold our values for every story published.