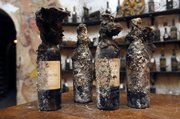 Paris — Over the years, the chief sommelier had forgotten they were there. And when the four bottles of 1875 Armagnac Vieux were finally unearthed from the labyrinthine wine cellar this week, they were covered in a black fungus that looked like matted cat fur.
The landmark Tour d'Argent restaurant, which dates back to 1582, is cleaning out its 450,000-bottle wine cellar, considered one of the best and biggest in the world. It is putting 18,000 bottles up for auction in December, an event that has captured the imagination of French wine lovers.
The restaurant is selling mostly wine but also some very old spirits, like three bottles of a Clos du Griffier cognac from 1788, the year before the French Revolution, as well as the ancient Armagnac, valued at $595-$743 a bottle. The fuzzy fungus is nothing to worry about — it thrives on the fumes of such spirits and is easily wiped away.
The restaurant wants to cut down on wines it has in multiple to vary and modernize its selection.
"You'll probably see, we've got too many bottles," jokes chief sommelier David Ridgway.
Unlocking a padlocked iron gate, the tuxedo-clad sommelier ushered visitors into the restaurant's underworld, where bottles are stacked floor to ceiling in a succession of caverns. Though everything is registered in a computer, there are occasional surprises, like the 1875 Armagnac, which Ridgway came across while looking for something else.
The wine cellar of the Left Bank restaurant, known for pressed duck and spectacular views of Notre Dame, is a part of its history. A sign marks the spot where a brick wall was built in 1940 to hide the best bottles during the Nazi occupation in World War II.
Visitors are offered sheepskin blankets for the chill: 57.2 degrees Fahrenheit this week, but dipping to 53.6 degrees Fahrenheit in winter.
"I like the wine to live a little bit of the seasons, even though it's temperature-controlled," said Ridgway, a Briton who has overseen the restaurant's wine menu since the early 1980s.
Times have changed since then, Ridgway says. Expensive jewelry or clothes no longer indicate what diners will pay for wine, and it's not taboo now for people to say what they want to spend. Still, he has to tread carefully: Propose a wine too inexpensive and some "people feel we have looked down on them, almost."
Estimated prices at the Dec. 7-8 sale by French auctioneer Piasa start at $15 a bottle and go up to $3,716-$4,459 for each 1788 Cognac, one of which will go to charity.
Among wines on sale are Chateau Lafite Rothschild (1970, 1982, 1997), Cheval Blanc (1928, 1949, 1966) and Chateau Margaux (1970, 1990). The total sale is expected to bring in around $1.5 million.
Buyers can rest assured the bottles aren't counterfeit — a major problem in the industry — because the restaurant bought them directly from vintners.
Copyright 2018 The Associated Press. All rights reserved. This material may not be published, broadcast, rewritten or redistributed. We strive to uphold our values for every story published.