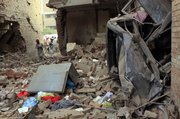 LAHORE, Pakistan — Islamist militants launched coordinated assaults on three police compounds in Pakistan's second largest city Thursday, the latest in a wave of attacks by insurgents bringing the war to the country's heartland ahead of an expected offensive against their Afghan border sanctuary.
The dramatic escalation in violence appears to be an attempt by the Taliban- and al-Qaida-led insurgency to seize the initiative from the army and deliver a warning to the U.S.-backed civilian government: Attack us in South Waziristan and we will fight back in your cities.
It also discredits Pakistani claims that the Taliban were on the ropes after this year's military campaign in the Swat Valley and the killing of their leader, Baitullah Mehsud, in a U.S. airstrike in August.
The United States wants Pakistan's army to launch the operation in South Waziristan to root out militants who use the remote mountainous region as a base for attacks in Afghanistan, where the American war effort is faltering amid spiraling violence eight years after the invasion.
Thursday's assaults in Lahore added to a sense of crisis in this nuclear-armed country, now shaken by five major attacks by the Islamic extremists in the last 10 days that have killed more than 150 people — including a 22-hour siege of army headquarters over the weekend.
At least 19 people were killed in the Lahore attacks, most of them security officers, along with nine heavily armed attackers.
Gunmen in all three attacks carried dried fruit and apparently were preparing to dig in for a long siege, said Rana Sanaullah, the provincial law minister.
"We are here to lay down our lives for Islam. Jihad will continue," two attackers shouted before blowing themselves up, according to one police officer. Most of the militants detonated suicide belts after they were injured or cornered to avoid capture, witnesses said.
One of the targets in Lahore was a training center for an elite police unit tasked with fighting militants. Many of the trainers there had received instruction from U.S. law enforcement officials under a little-publicized State Department program, officials said.
Suspicion fell on the Pakistani Taliban but it made no public claim of responsibility. Geo TV reported on its Web site that that group had confessed, but did not attribute the information.
Two officials said initial investigations showed Taliban from the Afghan border region and militants from the Punjab province were responsible. Such a link would be further evidence of increased coordination among militant groups, posing a new threat to the government.
"This was a well-coordinated Taliban operation supported by local groups," Umer Virk, the head of the Lahore anti-terrorist police, told The Associated Press. He said two of the militants appeared to be Uzbeks.
Militants have now struck Lahore four times this year, including previous attacks on two of the compounds targeted Thursday.
Lahore, some 350 miles from South Waziristan, is a bustling city known for its liberal arts scene. The city is home to many of the Pakistan's political and military elite and is the capital of Pakistan's most populated province, Punjab.
The assaults began about 9 a.m. when a gunman wearing civilian clothes and a suicide vest burst into the offices of the Federal Investigation Agency, the national law enforcement body, and began shooting, Sanaullah said. The attacker killed two men and four civilians, but was slain by guards before he could detonate his explosives.
Soon after, four gunmen raided a police training school on the outskirts of the city, killing 11 officers and recruits before police killed all the attackers.
A third team then scaled the back wall of a police commando training center near the airport. The attackers stood on the roof of a house, shooting at security forces and throwing grenades, said Lt. Gen. Shafqat Ahmad, the top military officer in Lahore.
The four assailants were killed, along with a police officer and a civilian, Sanaullah said.
Virk said officers seized 27 unexploded hand grenades, 50 pounds of explosives and one light machine gun.
Security officials said most of the gunmen were wearing suicide vests and blew themselves up when cornered.
"They were not here to live. They were here to die," said government official Sajjad Bhutta. "Each time they were injured, they blew themselves up," he said. "They were well trained to the extent they could jump over the walls and shoot well."
The attacks may have been timed partly to take advantage of a rift between the government and the army over a $7.5 billion U.S. aid package intended to symbolize U.S. support for the country's democratic transition after years of military rule, as well as its anti-terror fight.
The army and opposition politicians say conditions attached to some of the military assistance constitute American meddling and threaten Pakistan's sovereignty. The Pakistani government and the U.S. deny this.
Copyright 2018 The Associated Press. All rights reserved. This material may not be published, broadcast, rewritten or redistributed. We strive to uphold our values for every story published.