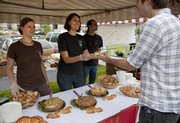 A 20-year-old Lawrence woman has died from injuries she received early Friday morning after apparently being hit by a hit-and-run driver.
Lawrence police said Rachel Leek was riding her bicycle in the 1000 block of Tennessee Street, when she was hit by a vehicle. Police said Leek was transported by air ambulance with serious, life-threatening injuries to Stormont-Vail hospital in Topeka, where she later died.
Police Sgt. Susan Hadl said emergency crews were dispatched to the accident after Douglas County emergency dispatchers received a call about 2:20 a.m. regarding an unresponsive person.
Hadl said a resident in the area had heard a noise and had gone outside to investigate when he or she found the victim unconscious near the curb on the east side of the street. The woman's bicycle was nearby.
A police detective was on the scene of the accident later Friday morning searching for evidence. Murphree said no arrests had been made in the case.
Hadl said there was no description of the vehicle available and asked anyone with information regarding the incident to call Lawrence police, or leave an anonymous message on the Crimestoppers TIPS hot line at 843-TIPS (8477).
Leek was an employee at Wheatfield's Bakery in downtown Lawrence.
Check back to LJWorld.com for more information as it becomes available.
Copyright 2018 The Lawrence Journal-World. All rights reserved. This material may not be published, broadcast, rewritten or redistributed. We strive to uphold our values for every story published.