October 15, 1969.
A young Bob Swan remembers being surrounded by thousands of people on Jayhawk Boulevard, and making a note to himself to write to his brother in Vietnam.
A young Allan Hanson remembers the feeling of "euphoria" as he watched thousands of people unite for a common cause.
Bob Marvin mainly remembers that he was young.
"I miss the excitement of youth, but not that much," he said this week with a laugh.
But what most remember is that they marched.
It was on this day 40 years ago that Lawrence became consumed by the Vietnam War Moratorium March. The Lawrence march was just one of hundreds across the country that day. A month later, about 500,000 marchers descended upon Washington, D.C. The anti-war movement in America had reached its zenith, and some of the city's more fervent activists came into their own that day.
"It was that moratorium day that I began my peace activist life," said Hanson, who went on to be a longtime leader of the Lawrence Peace and Justice Coalition and an organizer of weekly rallies against the Iraq War. "That is the day I decided I couldn't stand by anymore."
No major violence at march According to front-page articles in the Journal-World in October 1969, anywhere from 2,000 to 5,000 people marched down Kansas University's Jayhawk Boulevard. (KU police estimated 2,000 people. March organizers estimated 5,000.) The headline the next day read "Conduct of Moratorium Activities Praised." There was no major violence on the day, but that wouldn't always be the case.
"Looking back, it was just months thereafter that the lid blew off here," said Hanson, who was an assistant professor at the time and was among a group of faculty who returned a day's salary because they refused to teach during the event.
Six months later — in April 1970 — the Kansas Union burned, in what authorities believed was an arson. The case was never solved. Also in 1970 two young men were shot to death and KU's computer center was bombed as Lawrence and KU became hotbeds of racial and political turmoil.
But on that day, most didn't see that coming.
"The way I would describe the mood is that it was one of hopefulness," said Swan, who was a featured speaker at the event after one year earlier having run unsuccessfully as a 26-year old for Congress on an anti-war platform. "We were all hopeful that there were such large numbers who turned out."
Well, perhaps not everyone.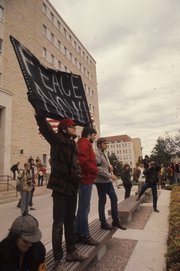 Veterans' perspective
Don Dalquest was a member of the Lawrence Police Department, had served in the Air Force in the days leading up to the war, and had many friends who were still fighting it.
"It was tough for us," said Dalquest, who is now commander of the local American Legion post, "because the fact was that being a veteran at that time wasn't a very cool thing to be. People were calling them baby-killers and that sort of thing."
Marvin, who was a KU undergraduate at the march, said the times that followed were a mix of good and bad.
"I don't miss the number of (expletive)-off people," said Marvin, who is now a library assistant at KU. "There were a lot of them. I do remember a lot of people giving (expletive) to people coming back from the war, and that was really bad."
And he certainly doesn't miss the anxiety.
"I remember feeling like I was going to be drafted," Marvin said. "I remember that nervousness. It wasn't a matter so much of not wanting to die. I felt it was much more about not wanting to kill."
Effect of protests
The Paris Peace Accords that ended U.S. involvement in the war did not come until January 1973 — more than three years after the War Moratorium March. Participants, though, believe the march made a difference.
"Yes, of course, it was worth doing," Hanson said. "I would do it again. I have been doing it again."
Hanson and others, though, said the times do feel different.
"One of the things that is different is I don't think the campus has ever been quite so engaged since then," Hanson said. "More recently, our events have been downtown. There's been a few students but more community people. It may be that we don't have a draft now and we did back then."
Dalquest said the times feel different for veterans' groups, too. He said when protests over the Iraq War began to emerge, many veterans, including himself, organized counterprotests.
"There were a lot of veterans who rose up and said, 'We're not going to let them do it that way again,'" Dalquest said.
Though the times may be different, many of the participants say their feelings haven't changed much. Hanson participated in weekly rallies against the Iraq War for about seven years, before he stopped after President Barack Obama was elected.
Swan went on to gain widespread attention for promoting better relations between the U.S. and the Soviet Union during the height of the Cold War. And Marvin said he still has "fairly liberal" convictions.
"I'm just one and a half times the amount that I was," Marvin said.
Yes, that may be the biggest difference. Everyone's 40 years older — today.
"I think the attitude is still the same," said Lance Burr, a Lawrence attorney who was a law school student at the march. "But I don't know whether I can back it up like I used to. But the attitude is still there. Maybe more so."
Copyright 2018 The Lawrence Journal-World. All rights reserved. This material may not be published, broadcast, rewritten or redistributed. We strive to uphold our values for every story published.