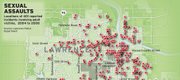 In the past five years, more than 450 adult sexual assaults have been reported in Lawrence. There's a rape in Lawrence every four days. Each case represents an instance where someone's life has been irrevocably changed. LJWorld.com, the Lawrence Journal-World and 6News are taking a deeper look at what those numbers really mean.
Lawrence Memorial Hospital is training more nurses to perform sexual assault exams, after coming under fire recently for sending two rape victims out-of-town to be examined.
Douglas County District Attorney Charles Branson claimed the hospital "turned away" two college age victims on Sept. 20, because an inadequate number of sexual assault nurses was available to perform the exams.
Since then, two additional nurses have been trained to perform rape exams and another group is scheduled for a week of training later this month, said Gene Meyer, LMH president and CEO.
"The recent events and activities of the past couple of weeks has unfortunately shed a negative light on (the nurses') efforts and those of LMH, and I regret that that has taken place," said Meyer, who defended his medical staff's actions during an interview this week at the hospital. "I frankly think it's inappropriate."
Patients' interest
Two of the four rape victims that showed up Sept. 20 at LMH's emergency room were referred to Stormont-Vail Hospital in Topeka for exams, Meyer said, but only after they were treated for physical and psychological symptoms.
He said it was necessary to transfer the rape victims, who were 18 and 19, because three rape victims arrived at LMH in the same 3-1/2 hour period and only one sexual assault nurse was on duty. Four other nurses trained to do the exams weren't available.
"Lawrence Memorial has not and will not turn away any patient from our doors, never, and that did not occur on Sept. 20," Meyer said. "The emergency department is very proud of the care that they deliver to all of our patients. As unfortunate as the transfers were … they were done in the best interest of the patient."
However, the transfers prompted Branson to write Meyer, accusing the hospital of placing the community at risk by not examining the patients at LMH. He said it was an ongoing concern that needed to be addressed, as rape victims sometimes feel ashamed about having to go to another hospital and that evidence can be lost before they get to the other hospital.
Handling three sexual assault patients simultaneously is something most hospitals in the country aren't equipped for, Meyer said.
To help avoid having to send patients to other hospitals in the future, he said LMH hopes to eventually boost the number of sexual assault nurses capable of performing the exams from five to 17.
The nurses — who also have other duties — volunteer to collect information for "rape kits," which assist law enforcement in prosecuting suspects. Meyer said the kits are labor-intensive and can take between three and four hours to complete.
Meyer said nurses from multiple departments within the hospital have volunteered for training since the district attorney's letter became public.
In addition, Meyer said all registered nurses in the emergency room will also receive a one-day training to learn how they can help rape victims in the event multiple victims show up simultaneously again.
Taking steps
Branson said he's pleased the hospital is taking steps to avoid having to send patients elsewhere for treatment.
"If this training and everything comes to fruition, I think it's a great step by the hospital," Branson said. "They've recognized the problem and they're obviously trying to take some steps to fix it so we have the coverage for the community and we have what we expect out of a great community hospital."
Increasing the number of nurses trained to do the exams also comes as the hospital sees an increase in the number of rape victims coming in. In all of 2008, 35 patients showed up to the emergency room for evidence collection. So far this year, there have been 49 patients.
During each year, hospital records show six patients — most of them children — were sent to other hospitals for examination. Meyer said he and Branson have agreed it's best for children to be examined at Children's Mercy Hospital, where medical workers have more expertise and sensitivity in caring for children.
It's possible, Meyer said, adult rape victims could be sent to another hospital for collection of rape kit evidence.
"LMH, regardless of what the situation might be, is not in the position that we want to transfer any patient to another setting, regardless of the diagnosis, regardless of the situation," Meyer said. "But, because we always try to act in the patient's best interest, there may be situations that exist that require us to do so."
Copyright 2018 The Lawrence Journal-World. All rights reserved. This material may not be published, broadcast, rewritten or redistributed. We strive to uphold our values for every story published.