Photo Gallery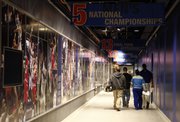 Allen Fieldhouse renovations
Lew Perkins has never entertained the idea of replacing 54-year-old Allen Fieldhouse.
Improving the tradition-rich building, however? That's a different story. "This facility is going to be here for a long period of time," Perkins, Kansas University's seventh-year athletic director, said proudly Wednesday after a media tour of the renovated fieldhouse.
Perkins spearheaded a round of fieldhouse improvements in 2005 that included a cleaning of the exterior, new windows, video board and sound system, as well as the creation of the Booth Family Hall of Athletics.
The 2009 upgrading includes an expansion of the Hall and creation of a donor atrium, as well as improved concessions, wider concourses, restroom upgrades and installation of terrazzo floors throughout the building.
A bridge has been erected connecting the parking garage to the fieldhouse on the north end.
There also are a batch of new amenities for the KU men's and women's players, including new locker rooms, training rooms, film rooms and lounges as well as a shared dining hall and cardio room.
"What this has done for our athletic program — obviously our men's and women's basketball — it puts us in a whole different league now in terms of our facilities," Perkins said. "We've obviously had great, great, great basketball programs here. Now this will allow us to stay at the highest level and continue to compete with the best of the best."
The improvements in the fieldhouse came at a cost of $7.8 million. They were part of a $42 million project that also included a men's and women's practice facility and new academic center for all student-athletes.
Copyright 2018 The Lawrence Journal-World. All rights reserved. This material may not be published, broadcast, rewritten or redistributed. We strive to uphold our values for every story published.