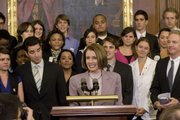 Snowe says Democrats have to work to keep her support
By Markham Heid - Medill News Service
Washington — As many had speculated, Sen. Olympia Snowe of Maine was the lone voice of Republican support Tuesday when the Senate Finance Committee approved its health care bill 14-9.
Speaking immediately after the final committee vote, Snowe said, "I just did this on the basis of my views, of my vote, on this moment in time." She denied that she'd supported the bill in order to secure a front-row seat at the negotiating table during the next round of the health care debate.
Snowe's aye, which she granted "with reservations," bestows a thin cloak of bipartisanship on a bill most Senate Republicans have vehemently opposed on fiscal, political and ideological grounds.
However, she made it clear that she won't automatically back subsequent iterations of the bill as it's debated on the Senate floor, saying there are "many miles to go in this legislative journey."
To keep her support, Snowe said Senate Majority Leader Harry Reid, D-Nev., needs "to incorporate some of the ideas that have been mentioned (in the Finance Committee) — to make sure that we contain the cost, that it is budget-neutral."
Snowe pointed out the issue of a public- or government-run health care option was a "line of demarcation between Republicans and Democrats," implying that she would withdraw her support if such an option were included.
She also challenged insurance companies, which she said stood to "gain enormously" from the health care overhaul.
"I think that the insurance companies have to step up to the plate and offer some constructive solutions," she said. "Twenty-nine million more Americans will be entering the system. That's 29 million more customers."
Washington — Fully bipartisan it isn't. But at long last, White House-backed health care legislation has a Republican supporter in Congress.
Historic legislation to expand U.S. health care and control costs won its first Republican supporter Tuesday and cleared a key Senate hurdle, a double-barreled triumph that propelled President Barack Obama's signature issue toward votes this fall in both houses of Congress.
"When history calls, history calls," said Maine Republican Olympia Snowe, whose declaration of support ended weeks of suspense and provided the only drama of a 14-9 vote in the Senate Finance Committee.
With her decision, the 62-year-old lawmaker bucked her own leadership on the most high-profile issue of the year in Congress, and gave the drive to remake health care at least a hint of the bipartisanship that Obama seeks.
At the White House, Obama called the events "a critical milestone" toward remaking the nation's health care system. He praised Snowe as well as Sen. Max Baucus, D-Mont., chairman of the committee, and declared, "We are going to get this done."
There were fresh challenges. Within minutes of the vote, labor unions and large business organizations both demanded changes in the bill, which was an attempt at a middle-of-the-road measure fashioned by the committee under Baucus' leadership.
Still, nearly nine months after the president pledged in his Inaugural Address to tackle health care, legislation to expand coverage to millions who lack it has now advanced further than President Bill Clinton's ill-fated effort more than a decade ago — or any other attempt in more than a generation.
The next move in the Senate is up to Majority Leader Harry Reid, whose office said the full Senate would begin debate on the issue the week of Oct. 26.
Nominally, Reid must first blend the bill that cleared during the day with a version that passed earlier in the Health, Education, Labor and Pensions Committee. But in reality, the majority leader — with the participation of the White House — has a virtual free hand in fashioning a measure to wind up gaining the 60 votes needed to overcome a threatened Republican filibuster.
"The bottom line here is we need a final bill, a merged bill, that gets 60 votes," Baucus said. "Our goal is to pass health care reform, not just talk about it."
Reid's most politically sensitive decision revolves around proposals for the federal government to sell insurance in competition with private industry. The Senate bill approved in committee during the day omits the provision, while the one passed earlier includes it and many House Democrats support it as well.
In general, bills moving toward floor votes in both houses would require most Americans to purchase insurance, provide federal subsidies to help those of lower incomes afford coverage and give small businesses help in defraying the cost of coverage for their workers.
The measures would bar insurance companies from denying coverage on the basis of pre-existing medical conditions, and for the first time limit their ability to charge higher premiums on the basis of age or family size. Expanded coverage would be paid for by cutting hundreds of billions of dollars from future Medicare payments to health care providers. Each house also envisions higher taxes — an income tax surcharge on million-dollar wage-earners in the case of the House, and a new excise levy on insurance companies selling high-cost policies in the case of the Senate Finance Committee bill.
Apart from Snowe, Republicans on the committee cited higher taxes, a greater federal role in the insurance industry and other concerns as they lined up to oppose the bill.
Sen. Charles Grassley, R-Iowa, said the legislation would place the nation on a "slippery slope to more and more government control of health care."
Sen. Mike Crapo, R-Idaho, elicited testimony earlier from the head of the Congressional Budget Committee that a substantial portion of the bill's tax increases would fall on groups Obama has vowed would be protected: individuals making $200,000 or less and couples below $250,000.
Snowe, too, said there were problems with the bill, but on balance, the risks of doing nothing were too great.
"We should also contemplate the decades of inaction that have brought us to this crossroads," she said. "The status quo approach has produced one glaring common denominator, that is that we have a problem that is growing worse, not better."
Copyright 2018 The Associated Press. All rights reserved. This material may not be published, broadcast, rewritten or redistributed. We strive to uphold our values for every story published.