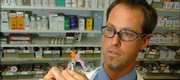 An outbreak of H1N1 Swine Flu was reported in Mexico in April 2009. By the end of May, it had spread across the U.S., with all 50 states reporting cases.
Lawrence public schools are required by the state to keep records of how many of their students are going home with flu-like symptoms. The district is hoping to prevent those numbers from skyrocketing by holding H1N1 vaccine clinics at 14 elementary schools in mid-November.
"Any student, even if they're not an elementary student, could come to their neighborhood school for the vaccination," chief operations officer Frank Harwood told school board members Monday night.
As of now, the plan is to hold clinics at all the elementary schools except Kennedy School during elementary parent-teacher conferences, which are Nov. 12 and 13. Kennedy won't be holding clinics because the Lawrence-Douglas County Health Department is planning community vaccination clinics at the Douglas County 4-H Fairgrounds, across the street from the school.
Students of any age would be able to come with parents to get the H1N1 vaccination.
"They could bring along their 4-year-old or their seventh-grader or their 10th-grader to the same place," Harwood said. "That way we have parents there while they're receiving the vaccination, which we think is a very important part of that."
Once the district is sure the shots and the staff will be available to administer the vaccine, the district will advertise the clinics in the schools. Parents who fall under one of the priority subgroups — pregnant women, those who care for children under 6 months old, health care workers and people with chronic health conditions — can get the vaccine along with their children.
Harwood said while a few elementary schools have had up to 10 percent of their students out with flu-like symptoms, schools probably won't close and students who don't get the vaccine won't be excluded from school.
Copyright 2018 The Lawrence Journal-World. All rights reserved. This material may not be published, broadcast, rewritten or redistributed. We strive to uphold our values for every story published.