Joni Sheram never realized bras could evoke so many emotions.
Three years ago, the Colorado playwright penned "Cups," which tells a woman's life story through the brassieres she has owned.
"Audiences come away with a positive outlook, saying they laugh and they cry," Sheram says. "I like that, because it does go through the whole spectrum of emotions. People say they're very moved."
The one-woman play is about to break out to a new national audience, having been picked up by the Theatre League, which will stage its own touring production of the show.
But first, audiences in Lawrence will get a chance to see it this weekend, as the Lawrence Community Theatre presents "Cups." It will be the first time someone other than Sheram will star in the show.
"It's really taken off," Sheram says.
The local production, which is at 7:30 p.m. Friday and Saturday and 2:30 p.m. Sunday, will feature actress Peggy Sampson under the direction of Annette Cook.
"Cups" is the story of the character Nora, who finds a stash of bras in her attic. Each evokes a specific memory, such as her first bra, the bra she burned in the 1960s and the bra she wore after her mastectomy.
Sheram wrote the play to accompany an art museum exhibition of sculpted breasts.
"Even though people assume it's my story, it's really every woman's story," Sheram says. "The story in it isn't one woman's story, but the story in it is true."
After she came up with the idea for the play, she started asking women she knew for their brassiere stories.
"People started telling me stories — very intimate stories," she says. "It kind of surprised me at first."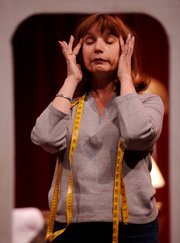 And she's heard even more intimate from audiences.
One came from a man whose wife had a mastectomy. The wife hadn't allowed her husband to see her chest after the surgery, which hurt the man. After the play, he said, the couple were finally able to have a serious conversation about the issue.
It's that type of depth, combined with moments of humor, that attracted Sampson to the play. She's acted in Lawrence for years, but this is her first one-woman play.
"It's bittersweet in a lot of places and really funny in others," she says. "It's so much like life. There are things you think are terribly serious when you're going through them as a teenager, like a bra that was showing over the top of your prom dress. It gets terribly funny as you mature and have some distance."
Sampson says the play isn't overly risqué.
"It is mature, simply because we use the word breast and we're putting brassieres on over my clothes," she says. "The language is perfectly fine. There's nothing in it that doesn't relate to real life. There's nothing salacious or anything in there just to shock."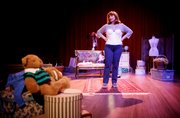 The play takes on added meaning during October, which is National Breast Cancer Awareness Month. A portion of the ticket sales will go to Health Care Access, a local agency that provides health care to those in need.
Sheram says about 80 percent of her audiences are women, but she says, "It's a man's tale, too. A lot of men are afraid to come, but men find it as enjoyable as women do."
As an example, Sampson notes there's a scene where Nora talks about a boy who has trouble unlatching her bra.
"I don't think there's any guy in the audience who couldn't relate to that," she says.
If nothing else, Sampson says, "Cups" may change the audience's perspective a bit when it comes to bras.
"It's like a picture album to remember her life," Sampson says. "They're almost mystical situations. They will cause everybody to take another look in their underwear drawer and realize, 'These are the milestones of my life.'"
Copyright 2018 The Lawrence Journal-World. All rights reserved. This material may not be published, broadcast, rewritten or redistributed. We strive to uphold our values for every story published.