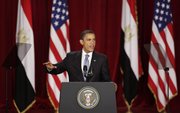 Washington — Gee, you'd think a U.S. president who won the Nobel Peace Prize might get rave reviews from his party's activists and polite congrats from top Republicans.
But news of Barack Obama's award Friday drew a rebuke from the Republican Party chairman, ridicule from conservative bloggers, and even gripes from some liberals who think he hasn't done enough to wind down the wars in Iraq and Afghanistan.
Top Democrats congratulated Obama, of course, but critics abounded.
"What has President Obama actually accomplished?" said Michael Steele, chairman of the Republican National Committee.
"It is unfortunate that the president's star power has outshined tireless advocates who have made real achievements working towards peace and human rights."
There was praise from two Democrats who also have won the Nobel Peace Prize.
Former President Jimmy Carter, who won in 2002, called Obama's selection a "bold statement of international support for his vision and commitment."
Former Vice President Al Gore, who won two years ago, said, "I think that much of what he has accomplished already is going to be far more appreciated in the eyes of history, as it has been by the Nobel committee," Gore said.
And some Republicans had kind words, too.
Sen. John McCain, R-Ariz., Obama's presidential rival last year, told CNN he could not divine the Nobel committee's intentions, "but I think part of their decision-making was expectations. And I'm sure the president understands that he now has even more to live up to. But as Americans, we're proud when our president receives an award of that prestigious category."
But GOP Rep. Gresham Barrett, who is running for governor of South Carolina, mocked Obama's prize. "I'm not sure what the international community loved best; his waffling on Afghanistan, pulling defense missiles out of Eastern Europe, turning his back on freedom fighters in Honduras, coddling Castro, siding with Palestinians against Israel, or almost getting tough on Iran," Barrett said.
Erick Erickson, writing on the conservative RedState.com, suggested Obama won in part because he is black.
"I did not realize the Nobel Peace Prize had an affirmative action quota for it, but that is the only thing I can think of for this news," Erickson wrote.
The reaction was only slightly warmer on some liberal Web sites, where some writers said Obama should end the wars in Iraq and Afghanistan before being awarded such a prize.
Jim White, writing for firedoglake.com, said the president "has stated a desire to end the war in Iraq and to close Guantanamo. So far, however, Obama only has delivered charming rhetoric on these important fronts. His actions, sadly, have tended to reinforce the worst of the Bush policies after giving them a nice rhetorical dusting off."
Copyright 2018 The Associated Press. All rights reserved. This material may not be published, broadcast, rewritten or redistributed. We strive to uphold our values for every story published.