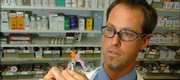 An outbreak of H1N1 Swine Flu was reported in Mexico in April 2009. By the end of May, it had spread across the U.S., with all 50 states reporting cases.
Pandemic H1N1 influenza caused a 15-fold increase in admissions to intensive care units for lung problems in Australia and New Zealand during the winter flu season, researchers reported Thursday in the New England Journal of Medicine, offering a foretaste of what might be expected in the United States this winter.
In a separate study in the same journal, U.S. researchers reported that one-quarter of Americans who were hospitalized with influenza symptoms last spring ended up in the intensive care ward and 7 percent died.
Both groups of researchers concluded that swine flu was slightly more dangerous than seasonal flu. The biggest difference is that seasonal flu is most serious in the elderly, whereas about half of those hospitalized with swine flu were children or teenagers.
Meanwhile, the first batches of swine flu vaccine have begun arriving in Kansas.
Health departments in Saline and Franklin counties reported Thursday that they had received their first allocations of the vaccine.
In Kansas, six people who contracted the H1N1 virus have died.
Copyright 2018 The Lawrence Journal-World. All rights reserved. This material may not be published, broadcast, rewritten or redistributed. We strive to uphold our values for every story published.