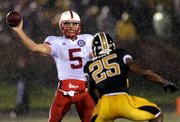 Columbia. Mo. — Zac Lee threw a 56-yard touchdown pass to Niles Paul, and Ndamukong Suh and Dejon Gomes intercepted passes to set up two more fourth-quarter scores in No. 21 Nebraska's 27-12 victory over No. 24 Missouri on Thursday night.
Lee completed 14 of 33 passes for 158 yards and three TDs to help Nebraska (4-1, 1-0 Big 12) overcome a 12-0 deficit in cold and rainy conditions.
Missouri's Blaine Gabbert, fourth in the country in passing efficiency with 11 touchdowns and no interceptions entering the game, completed just 17 of 43 passes for 134 yards and no touchdowns. It was his first game this season without a TD pass.
Missouri built a 12-0 lead after three quarters, its lone touchdown coming on Gabbert's one-yard sneak on fourth down with two seconds remaining in the first half.
Nebraska rallied with three touchdowns in a 3:22 span early in the fourth quarter.
After Lee hit Paul with the 56-yarder, Nebraska defensive tackle Suh deflected and then intercepted Gabbert's pass, and the Huskers scored on Lee's 13-yard pass to Paul to make it 13-12. A two-point conversion attempt failed.
Nebraska made it 20-12 on Lee's eight-yard TD pass to tight end Mike McNeill. The score was set up by Gomes' 40-yard interception return to Missouri's 10.
Looking to run out the clock, Nebraska added a final TD on Roy Helu Jr.'s five-yard run with 56 seconds remaining.
A steady downpour fell throughout much of the game. In the first half alone, the teams combined for 11 punts, nine penalties and six fumbles — including three muffed punts by Nebraska. For the game, Nebraska had 12 penalties and Missouri eight, with each losing more than 100 yards for those violations. Both teams punted eight times.
Columbia had more than five inches of rain and flash flooding throughout Thursday. A pregame campus power outage darkened all of Memorial Stadium for about 10 minutes before electricity was partially restored.
Passes routinely slipped through receivers' hands, and Missouri's lone score was aided by a 38-yard pass from Gabbert to Jared Perry after a Nebraska defender slipped and fell.
Missouri took a 2-0 lead when Nebraska punter Alex Henery tossed the ball backward out of his own end zone for a safety after a high snap. After Gabbert's sneak, the Tigers added Grant Ressel's 33-yard field goal in the third quarter.
The Huskers' fourth-quarter outburst accounted for 160 yards of offense — 57 more yards than they had for the entire game to that point. Helu carried 18 times for 88 yards.
Missouri had just 225 yards of total offense, with running back Derrick Washington gaining 80 yards on 20 carries.
Copyright 2018 The Associated Press. All rights reserved. This material may not be published, broadcast, rewritten or redistributed. We strive to uphold our values for every story published.