Photo Gallery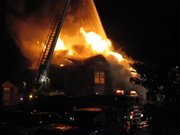 Aberdeen Apartments fire submitted photos
Photo Gallery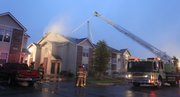 Aberdeen Apartments South fire
Phil and Alex Victor were dropping off copies of the Lawrence Journal-World to subscribers on their regular route in the Aberdeen South apartment complex Thursday morning when Alex noticed that something wasn't right.
"I saw smoke coming off the corner of the building," said Alex, who delivers papers with his father. "I got a little closer to just see what was going on. I could see little flickers of either sparks or fire."
That prompted Phil, who has been delivering papers for about a year, to call emergency dispatchers to report a fire in the apartment complex.
The father and son then did what they both thought was the next logical step. They started waking people up.
"They were startled to have somebody ringing their doorbell at quarter to six in the morning," Phil said. "At the time, (the fire) wasn't very big, but it spread very quickly."
The two knocked on the doors of all eight apartments and residents were able to get out of the building unharmed, thanks to the Victors' quick action.
"I didn't stop and think about anything," Alex said. "(We) just did what feels like should be done."
Resident Kim Springer called the men "good Samaritans."
"He was going around ringing everybody's (doorbell) trying to get them out," Springer said. "Everybody got out."
While Phil and Alex were waking residents, their delivery route was still on the back of their minds.
"We're supposed to have the papers delivered by six," Phil said. "(We) let them know we were going to be late."
After taking time out of their regular morning routine, the Victors got back to business.
"Once the help was there," Phil said, "we went ahead and finished the paper route."
Copyright 2018 The Lawrence Journal-World. All rights reserved. This material may not be published, broadcast, rewritten or redistributed. We strive to uphold our values for every story published.