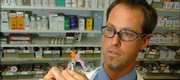 An outbreak of H1N1 Swine Flu was reported in Mexico in April 2009. By the end of May, it had spread across the U.S., with all 50 states reporting cases.
Topeka — The first batches of swine flu vaccine have begun arriving in Kansas.
Health departments in Saline and Franklin counties reported Thursday that they had received their first allocations of the vaccine.
Midge Ransom, director of the Franklin County Health Department, said her department received 100 doses of the aerosol mist vaccine. The mist is appropriate for healthy people ages 2 to 49.
The Salina/Saline County Health Department received 300 doses of the vaccine, also in the aerosol mist form.
The state health department now expects Kansas to receive about 16,700 doses from the first round of vaccine shipments. That's about 700 more than originally anticipated.
In Kansas, six people who contracted the H1N1 virus have died.
Copyright 2018 The Associated Press. All rights reserved. This material may not be published, broadcast, rewritten or redistributed. We strive to uphold our values for every story published.